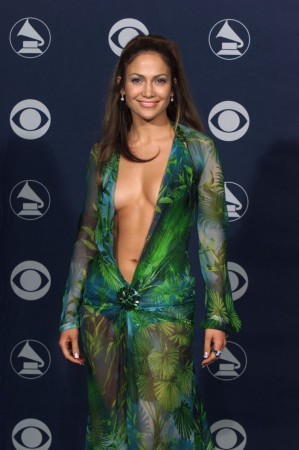 Award functions and fashion always go together. In fact, glamorous celebrities in designer outfits are the main attraction at such events.
[PHOTOS OF MOST GLAMOROUS OUTFITS AT GRAMMY AWARDS]
As the 55th Annual Grammy Awards ceremony draws near, we bring you the most glamorous outfits worn by celebrities at the Grammys till date.
1) Jennifer Lopez: Her see-through green outfit hit the headlines after the 2000 Grammy Awards ceremony. The "Waiting for Tonight" singer exposed her cleavage as she didn't wear a bra.
2) Toni Braxton: She attended the Grammy Awards 2001 wearing a sexy outfit that gave onlookers the impression that she didn't wear panties. Her gown gave a complete view of her side except a belt-size rope that holds the lose pieces of cloth in the waist.
3) Lady Gaga: As expected, the "Poker face" singer has managed to turn heads at almost all events and Grammy Awards is no exception. She hit the red carpet at the 52nd Grammy Awards wearing a bizarre outfit that exposes her undies.
4) Pink: Her "Glitter In The Air" performance at the 52nd annual Grammy Awards in 2010 will go down the history as one of the best performances at the Grammys. She shed the white cloak, leaving her with a flesh-coloured body-hugging outfit as she flew above the audience in a white rope.
5) Rihanna: The "Unapologetic" singer was one of the attractions at the 2012 Grammy Awards - all because of her hot black backless outfit that revealed her side boobs and cleavage.
However, celebrities may avoid wearing revealing outfits at the Grammys this year, as CBS, the broadcaster of the ceremony, has issued wardrobe directive to all the celebrities attending the event.
The American television network has asked celebrities to avoid see-through dress, thong type costumes and outfits that expose buttocks, breasts and genital region.