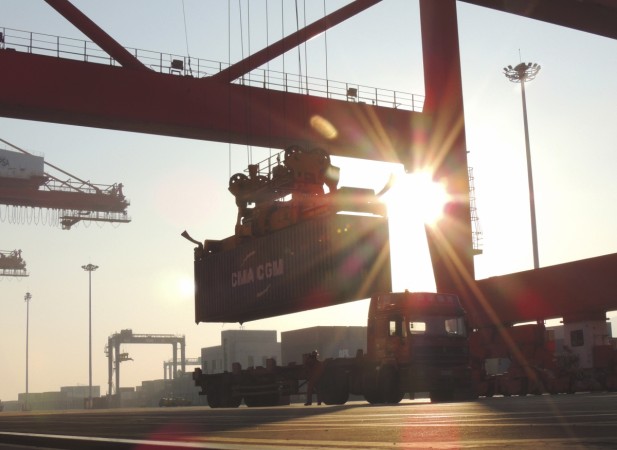 Five Indian states accounted for 69 percent of India's total export earnings in financial year 2014-15. Of this, Gujarat and Maharashtra contributed 49 percent to the total earnings, India's trade body Assocham said in a statement Tuesday.
Associated Chamber of Commerce and Industry of India or Assocham conducted a study on "export performance of state" between 2007-08 and 2014-15. It found that five states, which include Gujarat, Maharashtra, Tamil Nadu, Karnataka and Andhra Pradesh, were the top performing states in terms of exports.
In 2014-15, India's export earnings stood at $310 billion, the Press Trust of India reported.
Maharashtra bagged the first spot shipping goods worth $72.84 billion during 2014-15. Gujarat shipped goods worth $59.58 billion and Tamil Nadu came third for shipping consignments worth $27.47 billion, Assocham said in the statement.
However, landlocked states Uttar Pradesh (UP) and Haryana recorded the highest growth-rate, when compared to the top performing states, which had an advantage of a vast coastline.
UP recorded 18.3 percent growth rate at a compound level in 2014-15, whereas it was 14.4 percent for Haryana. Exports from Gujarat and Maharashtra grew at 8 percent and 7.2 percent respectively, it added.
"Land-locked states including Punjab, Rajasthan and Madhya Pradesh have to focus on massive improvements in basic infrastructure like roads, rail and airports to cut the transaction cost to stay competitive in an otherwise choppy international market," the study highlighted.
The report indicates the importance of special export-processing zones (EPZs) that have played an important role in promoting exports. Almost three-fourths of EPZs are located in Maharashtra, Gujarat, Telangana and Tamil Nadu.
In contrast, other states such as the ones in the Northeastern region find it difficult to export due to poor logistics and a week-trade facility, the Assocham report added.
[1 lakh = 100,000 | 1 crore = 10 million | 100 crore = 1 billion]