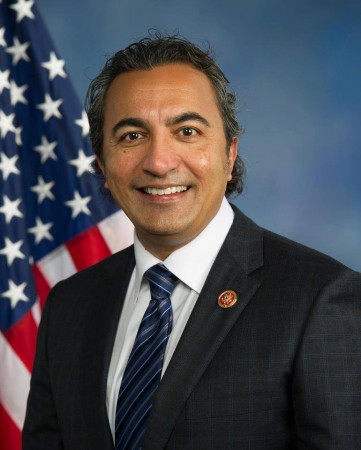 Four people of Indian-origin and another who has embraced India were the faces of diaspora's influence beyond science and technology in the US when they shared the stage with Prime Minister Narendra Modi and the VIPs at his Sunday community reception.
Hari Srinivasan, who was the emcee, is the anchor of the PBSNewsHour Weekend, a serious and in-depth TV news programme, it is very influential beyond the viewership numbers, among opinion-makers and politicians.
He also is a senior correspondent and director of digital partnerships. The Mumbai-born journalist has been an anchor for ABC's News Now, a reporter for Nightline, World News Tonight and CBS Evening News.
Nina Davaluri, the other emcee, recently completed her reign as Miss America, the first Indian-American to win the title. Though born in the US, she spent most of the first two-and-a-half years of her life in Vijayawada, Andhra Pradesh.
Nikki Haley is the governor of the South Carolina. Coming from a Sikh family, she was elected on a Republican ticket in 2010, becoming the youngest serving governor of a state in the US at 42 and also the first woman in the state. She was born in the state, but her parents are immigrants from Amritsar.
Ami Bera is a Democrat member of the House of Representatives from California. His parents are from Gujarat, but he was born in Los Angeles. He is a doctor by profession and was elected in 2010.
Tulsi Gabbard is the first Hindu member of the House of Representatives. She is not ethnically an Indian, but is an American Samoan. She was raised in the Hindu faith that her mother had adopted.
Gabbard took the oath of office on a copy of the Bhagvad Gita, which she presented to Prime Minister Modi. She is a Democrat from Hawaii and the vice chair of the Democratic National Committee. A captain in a combat team of the Hawaii National Guard, she has served with the US forces in Iraq.
In addition, Louisiana Governor Bobby Jindal was recognised from the stage for a message he sent, though he was not present. A former Congressman, he was first elected as governor in 2007 and won a second term in 2011.