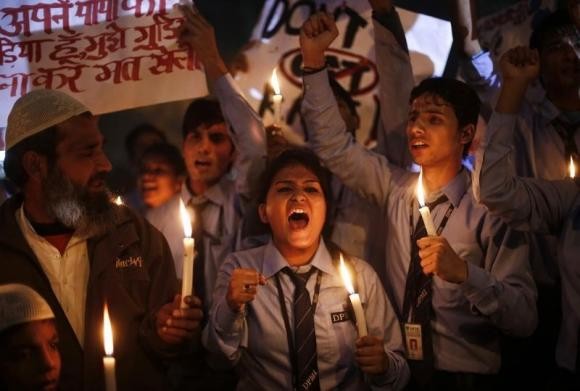 A woman is not a property, not a room service, not a game. She is a human being who like everyone else deserves to be respected.
1. "Sorry, my hand slipped"

This commercial proved to be an award winning one on eve teasing for AAJ TAK news channel. Though it starts on a light note it clearly gives out a strong message.
In the video, a guy tries to touch a girl by putting his hand on her shoulder. An old man stops him and shouts at him, after which the guy says, "Sorry my hand slipped." The old man then slaps him and says, "Sorry my hand slipped."
2. "He thinks I am a kitchen appliance"

The Havells' commercials are focused on respect for women. They surely market their products but in the process also convey strong messages.
One of them is of Havells Juicer, where husband asks his wife to make juice for him and his friend. While they crack jokes, wife comes with a juicer and hands it over to them. She says to husband's friend, "He thinks I am a kitchen appliance."
3. "Dekh Le"

It is basically a short film named "Dekh Le" issued in public interest by Whistling Woods International. After 16 December 2012 case, this pocket social awareness film was shown as a commercial on televisions and theatres. It basically shows different scenarios where men are ogling at girls on scooty, in trains and in restaurants. At the end, they see their own reflections of how they look while doing such things.
4. "Make yourself heard"

The Docomo coomercial titled "Make Yourself heard with Power Recharges!" is entertaining as well as comic, but its also conveys a message that women should stand up for themselves. A guy is seen whistling to get the attention of two school girls in a bus stop. Seeing this, another girl sitting there screams on the top of her voice. This grabs everyone's attention and the guy runs away.
5. "Atithi Devo Bhava"

This commercial conveys a message to make India safe so that foreigners feel comfortable in the country. This ad shows a tourist guide harassing two female foreigners, when Aamir Khan comes to the picture and stops them. The ad is a part of the 'Atithi Devo Bhava' campaign initiated by the Union Ministry of Tourism.