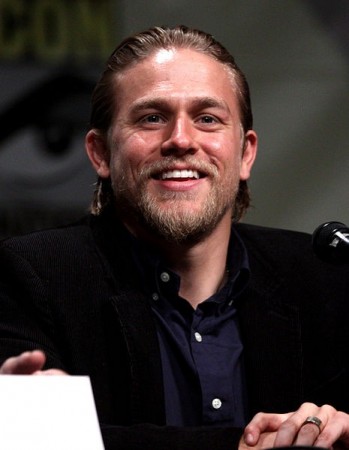 "Sons of Anarchy" hunk Charlie Hunnam celebrated his 34th birthday on April 10. The actor has made headlines for giving up his rugged biker look, which he has been sporting for quite a few years. We take a look at five facts you did not know about your favorite star:
Hunnam has kissed Ron Perlman: This will come a shock to "Sons of Anarchy" fans. Hunnam has made out with Perlman in the film titled "3, 2, 1...Frankie Go Boom." Before being casted together for the CW series, the actors have had an intimate moment in the film directed by Jordan Robert.
"I don't think anyone who watches "Sons of Anarchy" ever anticipated that they'd see Clay Morrow (Ron Perlman) and Jax Teller (Charlie Hunnam) making out, which is what you have in store if you see this wonderful film," Hunnam revealed in an interview with The Hollywood Reporter.
Hunnam got his first role when he was 15-years-old: Byker Grove the production manager of a British children's show discovered the actor. Hunnam was noticed while shopping for shoes and was given a role in three episodes of the show.
Hunnam goes to gym for two and a half hours every day: Despite his gruelling schedule, Hunnam makes sure that he maintains his chiseled body for the shirtless scenes in "Sons of Anarchy". Regarding the hard work he puts in to maintain his body he told Muscle & Fitness magazine, "So I said, 'I'll try and make it happen. So I shot 14-15 hours a day on Sons of Anarchy, then I would go the gym for two-and-a-half hours every day after work, " reported ET Online
Hunnam is very picky about the roles he plays: He once suggested in an interview with Stumped Magazine that the movie industry in a horrific state at the moment and he does not want to become part something inconsequential.
Hunnam learnt to ride motorcycle for the first time in 2006 while playing the part of Patric in the 2006 sci-fi drama "Children of Men".
(ED/VS)