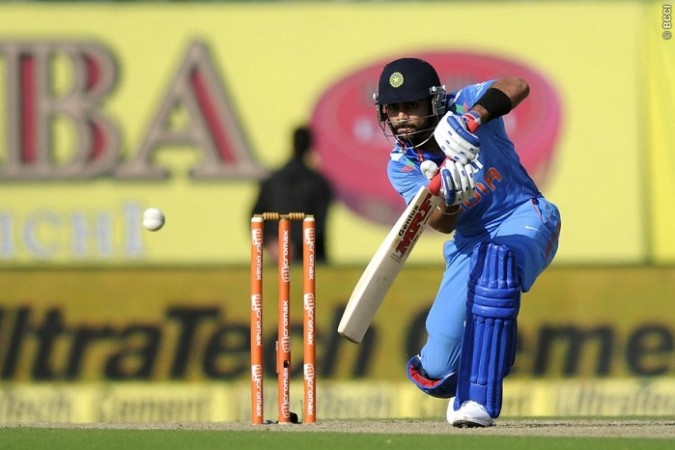 Off-field issues, if only we could lock it up, and throw it into another dimension, a dimension from where it is impossible to return. Unfortunately, that kind of scientific advancement has not been made as yet, and hence deal with off-field issues we must.
West Indies, right bang in the middle of a major pay dispute, decided this 4th ODI in the picturesque Dharamsala will be the final one of the tour, and going by the first innings, it looked like their heart was just not in it, with the mind clearly tuned in to a different radio station.
India took full advantage, making merry after being asked to bat first, smashing, gliding, driving and thumping the West Indies bowlers at will to post a massive 330 for six in their 50 overs.
Virat Kohli (127), after his good-but-still-not-quite-Kohli-like half-century in the 2nd ODI in Delhi, showed he is definitely back to his old self, playing a wonderfully elegant – does he know any other way? – century, with Shikhar Dhawan, Ajinkya Rahane and Suresh Raina all playing great supporting roles.
In reply, only Marlon Samuels (112, 106b, 9x4, 6x6) and a blitz from Andre Russell really dented the India bowlers, who did so well despite having to cope with the heavy dew, as West Indies saw their tour come to an end with a 59-run defeat after finishing on 271 all out in 48.1 overs. India won what was initially supposed to be a five-match ODI series, but ended up being a three-match rubber, 2-1.
For the chase to even have a chance of blossoming, an opening stand, with Dwayne Smith ideally playing a belligerent knock, was necessary; but, instead, the right-handed slugger was dismissed for an 11-ball duck.
Kieron Pollard came in at No.3 again, but there was to be no solid innings from the right-hander, as the WI batsman struggled from ball one, with Darren Bravo also not exactly looking comfortable as Bhuvneshwar Kumar, Mohammed Shami (9.1-0-72-1) and Umesh Yadav (9-0-44-2) made the ball talk in the first ten overs.
Chasing 331, West India managed a mere 26 runs in the first Powerplay, and Pollard's (6, 31b) rather torrid time in the middle came to an end soon after as Bhuvneshwar (10-2-25-2), brilliant as always, induced an outside edge.
West Indies made a fist of it sporadically, courtesy a decent 56-run run-a-ball partnership between Darren Bravo (40, 51b, 6x4) and Marlon Samuels, the only man who showed any sustained resistance, and a 34-ball 57-run alliance for the seventh wicket between the latter and Andre Russell (46, 23b, 6x4), but the target was always going to be out of reach.
Samuels' innings was the obvious highlight of the WI innings, with the right-hander, who scored a fabulous century in the first ODI in Kochi as well, taking a particular liking to Ravindra Jadeja (9-1-80-2). However, with little support at the other end, and Akshar Patel (10-1-26-2) also coming to the fore with the ball, the result was always a foregone conclusion.
Earlier, the pitch was expected to help the faster bowlers, but the India batsmen just did not allow any of them to settle, with the WI bowlers also quite guilty of bowling the ball way too short, while they were not backed up by their fielders who treated the white ball like a wet bar of soap.
Rahane and Dhawan gave India the perfect start, putting on 70 runs for the first wicket in just over 11 overs, and from there, it was pretty clear the home team were on their way to a massive score.
Dhawan (35, 35b, 6x4, 1x6) fell in the 12th over – caught at deep square-leg off a short delivery from Andre Russell – but all that did was give Kohli time in the middle to settle, and once he did that he went boundary-crazy alongside Raina.
Before Raina and Kohli's ridiculously entertaining partnership, though, the latter and Rahane put on a vital 72 in 15 overs, steadying that ship further and setting the platform for the likes of Raina and MS Dhoni to clear the ropes.
Rahane (68, 79b, 7x4) was his fluent self, looking on course for a big score, before, yet again, giving away his wicket to Sulieman Benn, who was far and away the pick of the bowlers for the West Indies.
At Rahane's wicket, India were in a strong-but-needs-to-be-stronger 142 for two in 27 overs, and it was take-off for the home team from that point as India's two best ODI batsmen took charge, and how.
There are very few batsmen in world cricket more easy on the eye than Kohli (127, 114b, 13x3, 3x6) and Raina (71, 58b, 3x4, 5x6), and it was almost like the two were matching each other shot for shot, trying to prove they can play the more aesthetically pleasing stroke.
The duo put on 138 runs in a mere 18 overs, at a run rate of 7.66, which basically broke the West Indies' back.
The final five overs were still to come after Raina's dismissal, and there was time for Kohli to complete another masterful hundred – his 20th in ODI cricket -- and India to pile on a few more runs, runs which put the issue beyond West Indies' reach.