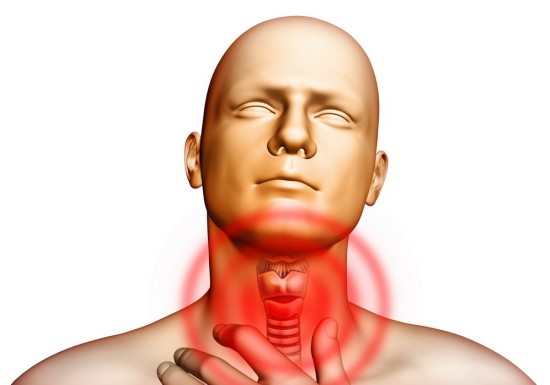 Nearly 42 million Indians reportedly have abnormal thyroid hormone levels. India accounts for 21 percent of the global population that has thyroid disorders, said a study conducted by SRL diagnostics â€" a network of diagnostic laboratories in India.
The survey added that there are 200 million people worldwide who have thyroid related problems, the Times of India reported.
The findings are based on a three-year-long survey conducted by SRL Diagnostics between 2013 and 2015 in which 20 lakh samples were diagnosed for thyroid hormone levels.
The study found that 25.3 percent of the people screened had abnormal levels of the Thyroid Stimulating Hormone (TSH).
The problem was more prevalent in women than men. About 26 percent of the women diagnosed were found to have abnormal TSH levels compared to 24 percent of the men.
The eastern part of the country had the highest occurrence of thyroid disorders (27 percent) followed by North India (26 percent). The southern and western part of the country reported the least prevalence of TSH abnormal levels with 22 percent of its population suffering from the disorder, according to the survey.
"There is a significant need to reach out to the masses and create awareness about the causes, symptoms, treatment and importance of testing for thyroid disorders.Excess thyroid hormone results in a condition known as hyperthyroidism while insufficient hormone production leads to hypothyroidism," Leena Chatterjee, director at Fortis Labs (which owns SRL diagnostics), was quoted by the DNA as saying.
Thyroid disorders; symptoms, treatment, risk group
Thyroid disorders are of two types: Hypothyroidism and Hyperthyroidism.
Hypothyroidism is a condition in which the patient has deficiency of thyroid hormones. This condition can lead to disruption in heart rate, body temperature and all aspects of metabolism. Older women are more prone to hypothyroidism.
Its common symptoms include fatigue, cold sensitivity, constipation, dry skin and unexplained weight gain. Over 10 million hypothyroidism cases are reported every year in India.
Hyperthyroidism, on the other hand, refers to the overproduction of thyroxine hormone.
Its symptoms include unexpected weight loss, rapid or irregular heartbeat, sweating and irritability, although the elderly often experience no symptoms.
Treatments include radioactive iodine, medications and sometimes surgery.
People in the age group of 41 to 60 years and above are prone to hyperthyroidism.