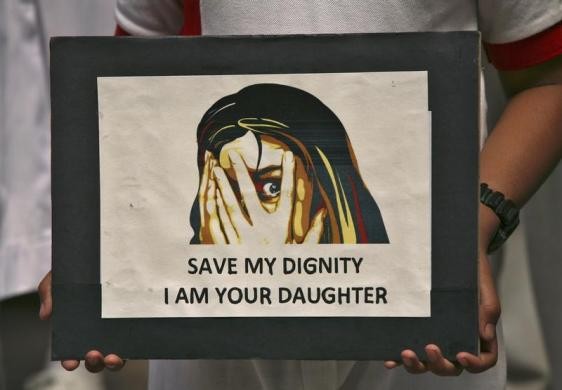 The four-year-old girl who was brutally raped in Seoni, Madhya Pradesh, has died of a cardiac arrest at Care Hospital in Nagpur, on Monday.
According to police, 35-year-old Firoz Khan allegedly raped the girl and dumped her at a farm on 17 April in Ghansour. After finding her unconscious, the girl's parents admitted her to Netaji Subhash Chandra Medical College and Hospital in Jabalpur, the next morning.
But the victim's condition deteriorated and she was airlifted and admitted to Care Hospital in Ramdaspeth area, Nagpur on 20 April, following protests from angry villagers against the government's inaction. She remained in coma ever since she was shifted to Nagpur.
The victim had suffered severe brain damage and was on life support system and drugs. On Monday evening (29 April), her condition had worsened and she was battling for life. "Her haemodynamic parameters which at least were stable until a few days back were deteriorating. Her blood pressure was very low in spite of best possible medication," Dr Ashok Tank had said earlier in the evening, according to The Times of India.
At 7.45 pm, doctors announced that the victim died following a cardiac arrest. Their efforts to resuscitate the girl through cardiopulmonary resuscitation (CPR) failed. Her body has been sent for post mortem. "We have informed the MP government about the death of the girl. Her body was sent to the government run medical college and hospital for a post mortem," a Care Hospital spokesman told Hindustan Times.
The tragic news has come at a time when there has been an increasing number of reports of sexual offence against children in India. Two weeks ago, a five-year-old girl was raped by two men in a residential building in east Delhi's Gandhi Nagar area.
Revealing to authorities the details of the brutal crime, the accused said they had raped the girl even after she fell unconscious. They had also inserted candles and bottles to stop her from bleeding. The victim, who is currently being treated in AIIMS, is recovering. Doctors said that she would be discharged from hospital in two weeks time.