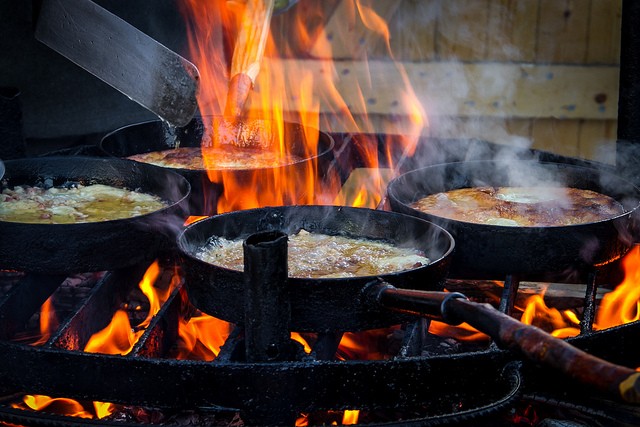 In yet another display of what can be termed as acts of barbarism from Indian villages, four young boys from Jhila village in Madhya Pradesh were allegedly forced to dip their hands in boiling oil.
They were asked to undergo the horrendous act this Thursday in order to prove their innocence after they were accused of theft in Sagar district, Mail Online India reports.
'Agni Pariksha' or "Fire test" is a medieval practice dating back thousands of years across different culture in the world. For this means of trail for justice, a person must either walk on fire, or set themselves ablaze or dip their hands in boiling oil in order to prove their innocence. People in the medieval age believed, if one was innocent, they will remain unharmed despite subjecting themselves to extreme heat or fire in any given manner.
The four boys who underwent the ordeal have been recognised as Bharat Kushwaha (13), Halkoti Patel (12), Akash Kushwaha (11) and Ramkumar Kushwaha (14). They were suspected of stealing ₹500 by one Bhagwandas Chadar, his brother Lakhan and his wife Sashi.
The incident took place on evening of Thursday, as soon as the boys returned from school, according to Anuragi Sharan, the in-charge of the local police station.
Lakhan apparently had ₹500 missing from his house and immediately suspected the boys from the neighbourhood. He went to their houses on Thursday evening and invited them home promising a treat.
When the boys reached Lakhan's house, they were allegedly assaulted by the family who accused them of the theft. Despite the boys pleading innocent, the family asked them to dip their hands in boling oil in order to prove their innocence.
When the boys refused to follow the orders of the family, the accused forcibly dipped their hands in the cauldron. One of the boys, Akash, managed to escape the scene and informed the families of all the boys. It was then that the act came to light and the boys were rescued by the villagers.
All the three accused have been arrested.