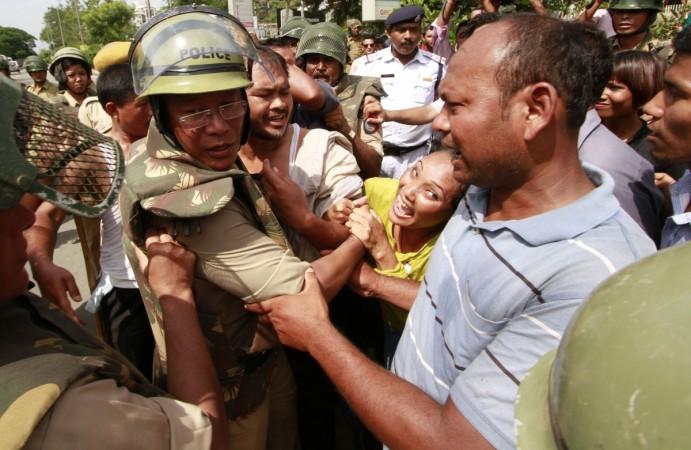 Assam's two districts have been put under curfew after violence erupted on the Assam-Nagaland border following a dispute between two people of different ethnic communities over a piece of land on the border.
The curfew is declared in the two districts, Golaghat and Rongajan, following the clash between police and the ethnic groups, in which several people are injured and many died. The army has been deployed in the state to carry out a flag march to avoid further violence.
The dispute between Nagas and Adivasis forced the police to resort to lathicharge and firing.
In the latest firing on Wednesday, at least three people were killed in Golaghat while one was killed and 18 others were injured in a clash on Tuesday in Ronagajan, according to Times of India report.
Earlier, between 12 August and 15 August, several others were injured in the clash between the two communities— Nagas and Adivasis — and nine were reportedly killed. However, NDTV reported an unofficial figure showing 18 deaths within these four days.
The police reportedly interfered when a group of Naga insurgents allegedly fired at Assamese (Adivasis) protesting outside the CRPF camp in Assam's Golaghat district. The attack by the Naga insurgents shot dead an Adivasi who provoked the Assamese protesters to retaliate.
The protesters were gathered outside the CRPF camp demanding the release of two Adivasi students, claimed to have been abducted by a Naga insurgent.
Along with social activists, a militant group, National Socialist Council of Nagaland's (NSCN-IM) is suspected to have triggered clash between the two ethnic groups in the state, according to the Economic Times.
How it Started
The clash started after a small dispute between Naga man Ekonthubg Lotha and Assamese tribal (Adivasi) Salamon Sama over a piece of land on the border of two states.
Sama and Lotha signed up an agreement, according to which Sama cultivated on the land and shared half of the cultivated goods with Lotha, who claimed to be the owner of the land.
The situation between the two heated up when Lotha tried to build a hut on the land, resulting in disputes between them. However, the dispute was settled by the intervention of local authorities from both the states.
But things worsened again when two Adivasi students reportedly went missing following which the Assamese attacked Lotha and other Nagas and dragged them away from Golaghat, retaliating to which Nagas attacked them at the CRPF camp.
Following the attacks by the Naga, over 1,000 people across villages in Golaghat district reportedly left their homes and fled to relief camps.