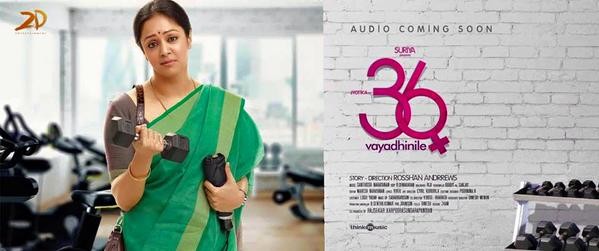 "36 Vayadhinile", which is the comeback movie of actress Jyothika after a gap of eight years, is one of the most awaited movies of the year. The latest reports from sources close to the movie suggest that the film will hit screens by May.
Moreover, the audio of the movie, which is also said to be one of the highlights, will be released on 1 April. Earlier, it was announced that the audio would hit stands by the end of March. Considering the buzz of the Cricket World Cup matches in the country, the makers later decided to postpone the song release date.
Reports are that the audio launch will be a grand function and the music will be attended by Jyothika, Suriya and other cast and crew of the film.
"36 Vayadhinile" album has three songs and five theme music along with three Karaoke tracks composed by Santhosh Narayanan. The composer had already inspired fans with his highly surging background score of the trailer that was released recently. [See Photo Gallery of Jyothika's '36 Vayadhinile']
With the trailer, Jyothika has managed to go beyond the expectations of her fans as she looked more than comfortable in the skin of her character. With her new look and appearance, Jyothika has proved that there is a lot more in her to contribute to the cinema world and makers have indicated that there is a good movie in store for Tamil movie buffs.
"36 Vayadhinile" is the remake of Malayalam hit movie "How Old Are You" starring Manju Warrier. Interestingly, Manju too made her return to the film industry after 14 years with the movie.
The story and direction of "36 Vayadhinile" are handled by Rosshan Andrrews, who had helmed the original version. The upcoming film is produced by Jyothika's husband and actor Suriya, under the banner of 2D Entertainment. Suriya has also bagged the remaking rights of the movie in Kannada and Hindi.