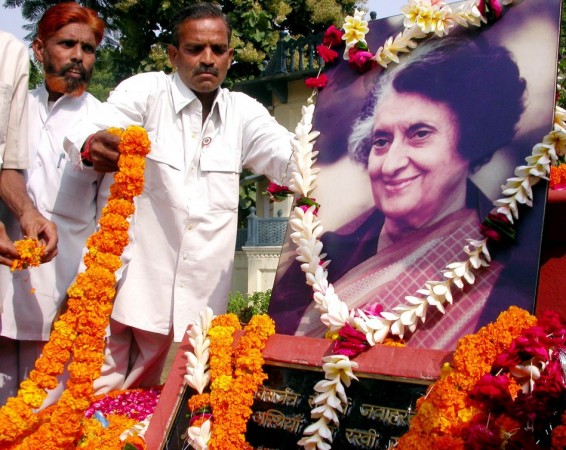 While the Modi government initiated a much-publicised 'Run for Unity' event on Friday on the occasion of Sardar Vallabhbhai Patel's birth anniversary, which it has also marked as 'National Unity Day', it has been accused of sideling former prime minister Indira Gandhi, who was killed on 31 October, 30 years ago.
Run for Unity: Modi Anoints Sardar Patel as Architect of Modern India
Gandhi's death anniversary was relegated to only a mention by the BJP-led government.
I join my fellow countrymen & women in remembering former PM Smt. Indira Gandhi on her Punya Tithi.

— Narendra Modi (@narendramodi) October 31, 2014
This year was reportedly the first time that members of the central government stayed away from Indira Gandhi's memorial at Delhi's Shakti Sthal on her death anniversary. Only President Pranab Mukherjee attended the memorial service, led by Congress president Sonia Gandhi and vice-president Rahul Gandhi.
While Modi invoked Gandhi during his speech that was largely centered on paying tributes to Sardar Patel, he also made a veiled attack on the Congress for the 1984 anti-Sikh riots that broke out after Gandhi's assassination.
"It is unfortunate that on the birth anniversary of the man who dedicated his life in uniting the country, a tragic incident took place 30 years ago that shook the country and left it deeply scarred," Modi said.
"Our own people were murdered, the attack was not on a particular community but on the entire nation. It was like a dagger pierced through India's chest," he said in reference to the 1984 riots.
Congress leaders vehemently expressed their dismay at the absence of the state leadership at the memorial.
Congress MP Shashi Tharoor tweeted, "Disgraceful that Govt is ignoring the martyrdom of our only Prime Minister who was killed in office in the line of duty. Oct 31 forgotten?"
I have condemned the anti-Sikh atrocities in 1984 &in my writings since. Doesn't mean Govt of India should forget a martyred Prime Minister.

— Shashi Tharoor (@ShashiTharoor) October 30, 2014
Digvijay Singh also launched a verbal attack at the Rashtriya Swayamsevak Sangh with his tweet.
We pay Homage to Sardar Vallabh Bhai who united India and banned RSS for inciting Communal Violence which led to assassination of Gandhiji.

— digvijaya singh (@digvijaya_28) October 31, 2014