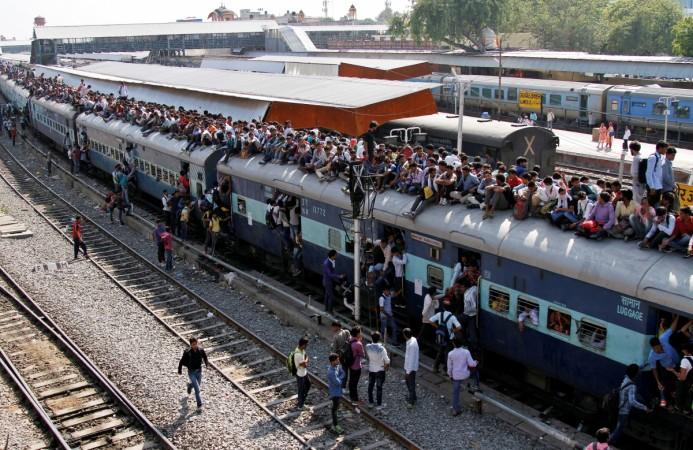 Railway services in Mumbai have resumed as students who had blocked train lines to demand permanent jobs in Indian Railways have called off their protest Tuesday.

At least 30 trains were canceled in Mumbai after hundreds of students blocked the central railway tracks.
#WATCH: Railway traffic resumes between Dadar & Matunga, agitating railway job aspirants still present at the spot where they have been protesting, between Matunga & Chhatrapati Shivaji Terminus railway station. #Mumbai pic.twitter.com/J72KIhc38b

— ANI (@ANI) March 20, 2018
Mumbai railways paralyzed
The students from the All India Act Apprenticeship Association had launched the rail roko movement at 7 am. They had blocked tracks between Matunga and Chhatrapati Shivaji Terminus and forced the central railways to stop the suburban and express trains between the two stations.
In total, four lines were affected between Matunga and CSMT.
#Mumbai: Railway traffic affected due to student agitation between Matunga & Chhatrapati Shivaji Terminus railway station, the agitators are demanding jobs in railways. Police has reached the spot. pic.twitter.com/rlFp1K4tBz

— ANI (@ANI) March 20, 2018
The police were at the spot and brought the situation under control.
The chief public relations officer of the Central Railways, Mumbai, had assured that train services will be restored soon as the Government Railway Police and Railway Protection Force were trying to persuade the students to clear the tracks.
"There is some kind of protest taking place between CST and Dadar. The railway police is handling the situation. It is not specified who these protesters are," India Today had quoted the PRO as saying.
The students had said that they won't budge until their demands were met. "There has been no recruitment since last four years. We are struggling from pillars to post. Over 10 students have committed suicide. We cannot let such things happen," a student had told PTI.
"We will not budge from here until and unless Railways Minister Piyush Goyal come and meet us," the student added.
Maharashtra Navnirman Sena leader Sandeep Deshpande had also said that the students had refused to move until Goyal provided relief to them.
"Until Railway Ministers Piyush Goyal provides a written assurance to these students, these students won't move from here," Deshpande had said.