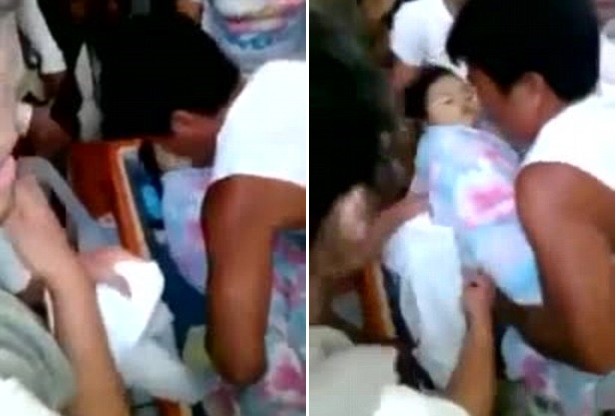 A three-year-old Filipino girl, who 'woke up' during her funeral ceremony on Saturday - 24 hours after she was declared dead, died for a second time on Monday, local reports suggest.
The news of the young child coming back to life during her funeral service that was being held at a church in Aurora in the Philippines, was recorded on film and has gone viral.
As per reports, local doctors had declared the three-year-old "clinically dead" on Friday morning, following which her body was kept at the church for the final rites. She had died after suffering from high fever.
But during the burial ceremony, the onlookers noticed that the child moved her head. The astonished parents and relatives quickly lifted the girl out of the coffin and gave her water, after which she was rushed to the hospital.
A report, however, now suggest that the young child is dead again, after the parents had brought her back home. The child was still suffering from fever and was declared dead by Dr Mary Silyne Asor-Cabahug, the Municipal Health Officer of Aurora.
The doctor checked the child for any signs of life on Monday and found that there was no pulse. The parents of the child have been asked to bury the child at the earliest, the local report noted.
Referred to as "Lazarus Syndrome" - named after the Bibical character, Lazarus who was raised from the dead by Jesus - there have been a dozen cases of people coming back to life after being declared dead.
In an incident similar to that of the Filipino girl, in Brazil back in June 2012, a two-year-old Kelvin Santos reportedly woke up and asked for a glass of water during his funeral in Belem, north Brazil. However, after drinking water he laid down again and was confirmed dead for a second time.
There was a stampede in Zimbabwe, when Brighton Dama Zanthe, 34, came back to life. The mourners fled the funeral procession in fear, when they saw Zanthe moving out of his coffin last year in May.