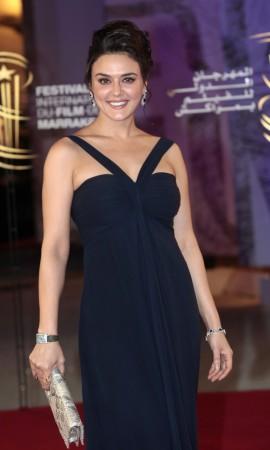 After taking a three-year break from films, actress Pretiy Zinta is excited to make her return to Bollywood with her upcoming movie "Ishkq in Paris", which is slated to release on Nov 2.
"I am happy to be back with "Ishkq in Paris". Being in the healthy state is the best thing. I am coming back in films after three years and that's exciting. If you do the same job there are burnt-out vibes. I took a break and that has helped me a lot," the actress was quoted saying by The Times of India.
The 37-year-old actress, who turned producer in the movie, was last seen in Deepa Mehta's 2008 Canadian film "Heaven on Earth". She also made a few cameo appearances in "Main Aurr Mrs Khanna" and "Rab Ne Bana Di Jodi" but mostly stayed away from taking leading roles.
In her upcoming movie, Pretiy is quite excited and believes that success and failure is a part and parcel of one's life. "Flops and hits come in everyone's career. In fact, my 85% films have done well at the box office," said the actress.
The movie "Ishkq in Paris" is a romantic comedy reportedly shot in Paris. The film also stars and French actress Isabelle Adjani and her Los Angeles-based niece Maya, who will be seen playing a younger Preity in the movie. The movie is directed by Prem Raj and produced by Preity Zinta and Neelu Zinta.
The bubbly actress, who once had a long relationship with businessman Ness Wadia and had reportedly dated cricketers Yuvraj Singh and Brett Lee, is so busy with her work that she has no time for love.
"I am lucky...I have no time for love...I would like to get married some day. When that day comes... Will inform everyone," the actress said according to Zee News.