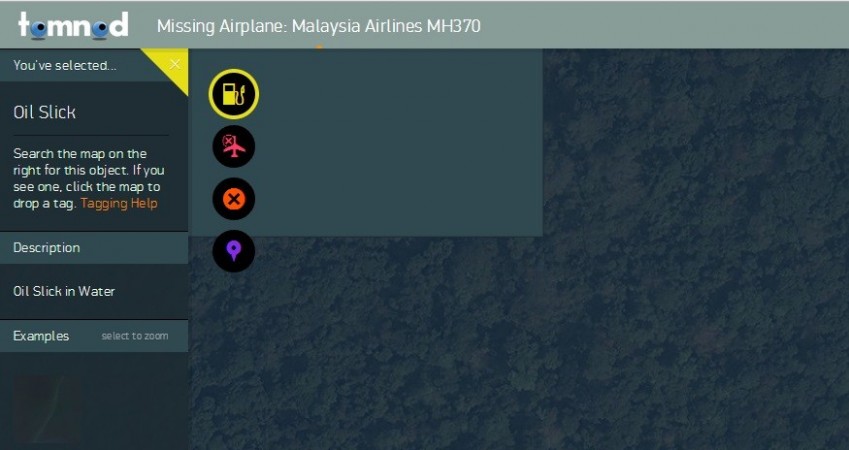 Three million people have joined the hunt for the missing Malaysian Airlines flight MH370, in a massive crowdsourcing project by Tomnod.
The project, thought to be possibly the largest in history, has enlisted about 3 million volunteers from around the world to look for any possible lead in finding the missing jet that has been in the headlines for 11 straight days.
Tomnod was initially a research project at the University of San Diego and later acquired in 2013 by Digital Globe, a Colorado-based satellite imaging company.
DigitalGlobe has uploaded about 24,000 square kilometers (9,300 square miles) of high-resolution imagery to Tomnod. The images were collected in some of the area where the plane was originally thought to have originated. Users can access the website and scan through the micro-portions of the map, each of small size. They are expected to tag anything that looks like wreckage, rafts, oil slicks or other possible signs that the aircraft could be there.
The company has now said that over three million people have participated in the program with over 257 million map views and 2.9 million areas 'tagged.'
After DigitalGlove activated its crowsourcing platform on 11 March, the public response is said to have been so great that the Internet traffic overloaded the system's computers for some time.
Although there is no definitive record, there is a general consensus that the crowdsourcing is likely to be one of the largest in history.
MH370, Biggest Mystery of the Century?
While the mystery surrounding the missing plane has only continued to raise confusion and frustration, many revelations have only raised a spate of new questions and possibilities on a story that has continued to make major international headlines for two weeks after the plane's disappearance under mysterious circumstances.
The wide-body jet, carrying 239 people onboard, was reported to have vanished from the civilian air-traffic control radar in the wee hours on Saturday, only about an hour into its journey from Kuala Lumpur to Beijing.
While the inability to solve the puzzle surrounding the bizarre disappearance of the plane has become a breeding ground for uncanny theories and explanations doing their rounds on the Internet, the event has prompted a massive international air and water search, which so far has not produced any tangible results.