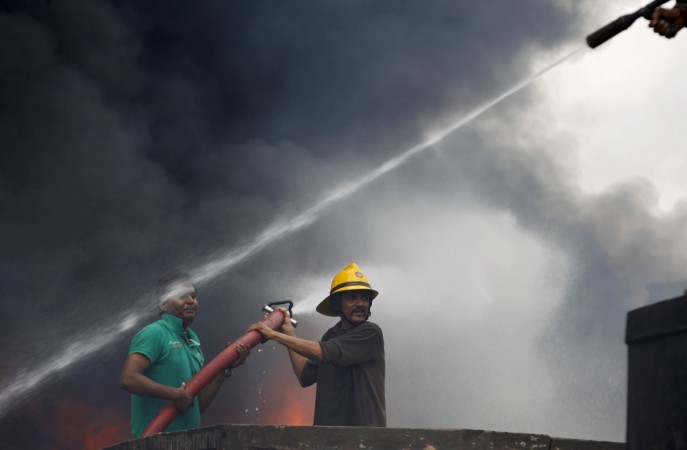 At least three persons reportedly died and several were injured after an explosion occurred in a boiler at a chemical factory in the Thane district of Dombivli in Mumbai.
The incident took place at Herbert Brown Acharya chemical company in Dombivli MIDC Phase 2 around 11:30 a.m., according to Hindustan Times.
"We have learned about three workers dying in the incident but are further confirming this. Fire tenders, water tankers and ambulances are currently at the spot," the Hindu quoted Joint Commissioner of Police, Thane, Ashutosh Dumbare as saying.
Asian International News (ANI) reported that over 20 people had been injured and eight fire engines were rushed to the spot. However, NDTV reported at least 150 people were injured in the blast.
Water tankers were also rushed to the spot and the injured were admitted to the Asian Institute of Medical Science (AIMS) hospital, Daily News & Analysis reported.
The explosion was reported to be so intense it shattered the glass panes of several buildings within a distance of 4-5 km.
"My sister stays three minutes away from the factory. Every window in her house has been reduced to powdered glass. People are scared and confused. There is chaos everywhere," the Hindu quoted Raju Nalawade, a resident of a nearby locality, as saying.
The area has reportedly been cordoned off and mobile services suspended.
Maharashtra Chief Minister Devendra Fadnavis said in a tweet on Thursday: "Spoke to police officials & local authorities and asked them to speed up the relief operations. [sic]"
He went on to add: "We are constantly in touch with the local administration and we would leave no stone unturned in our efforts & relief operation. [sic]"
Spoke to police officials & local authorities and asked them to speed up the relief operations.#Dombivali
(2/3)

— Devendra Fadnavis (@Dev_Fadnavis) May 26, 2016
We are constantly in touch with the local administration and we would leave no stone unturned in our efforts & relief operation. (3/3) — Devendra Fadnavis (@Dev_Fadnavis) May 26, 2016