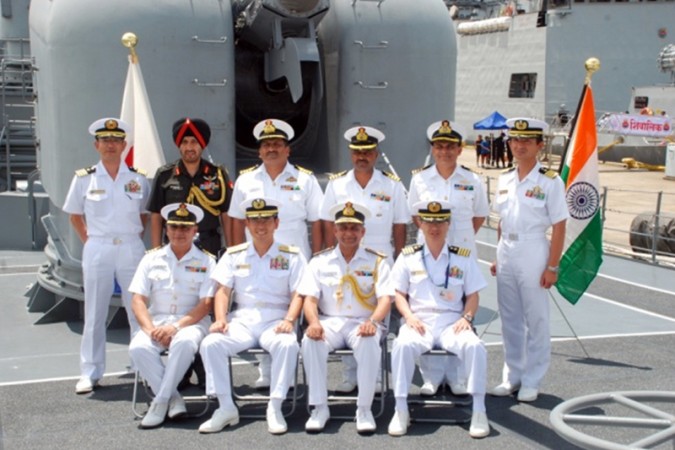 The three-day Exercise Malabar 2014, involving Navy forces of India, the US and Japan, began at Port Sasebo in Japan on Thursday.
The exercise has been scheduled from 24 to 26 July and aims to develop maritime relationship between multinational Navy forces.
According to the Union Defence Ministry:
Exercise Malabar is a complex, high-end operational exercise that has grown in scope and complexity over the years. Malabar 2014 is the latest in a continuing series of exercises conducted to enhance multinational maritime relationships and mutual security issues.
The exercise will feature both ashore and at-sea training. Ashore training will include subject matter expert and professional exchanges on Carrier Strike Group operations, maritime patrol and reconnaissance operations, anti-piracy operations and Visit, Board, Search and Seizure (VBSS) operations.
Three ships of Indian Navy-INS Ranvijay (guided missile destroyer), INS Shivalik (stealth frigate) and INS Shakti (fleet tanker) entered Port Sasebo on 23 July for the exercise.
The sea phase of the exercise is scheduled from 27 to 30 July and will be conducted in the Western Pacific Ocean.
Exercises planned during this phase include search and rescue exercises, helicopter cross-deck landings, underway replenishments, gunnery and anti-submarine warfare exercises, Visit, Board, Search and Seize operations (VBSS) and Liaison officer exchange and embarkation.
Designed to enhance maritime cooperation among the navies of the participating nations, these exercises further hone individual capacity to conduct operations in a multi-national environment.
The Indian, Japanese and US navies have a common understanding and knowledge of a shared working environment at sea. This exercise would further help advance the level of understanding among the navies.
Two destroyers along with a P3C Orion and a sea-plane (US-2) are participating from the Japanese Navy. From the US Navy, one submarine (SSN), two destroyers, one tanker along with one MR aircraft would be participating. One US Carrier Strike group (CSG) is likely to join for the sea phase of the exercise.
The last annual exercise was held in the Bay of Bengal, involving Navy forces of India and the US from 5 to 11 November 2013. Though Exercise Malabar was a bilateral naval exercise of India and the US, participation in it expanded to Japan, Australia and Singapore.
India and the US began the exercise in 1992. When India tested nuclear weapon in 1998, the US suspended the exercises but the country joined the exercise again following 9/11, when India joined the US to fight international terrorism.