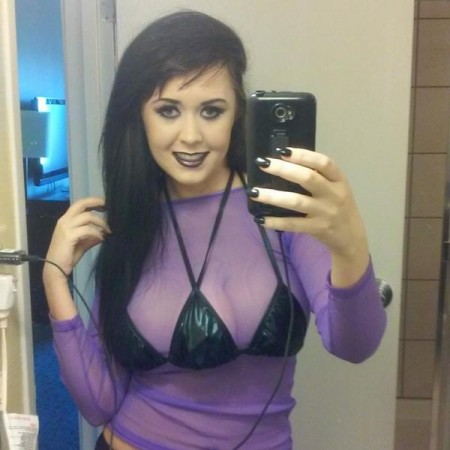 The incredible story of a 21-year-old Florida woman, who recently hit the headlines for implanting a third breast, is most likely a hoax.
The websites Snopes.com and Buzzfeed have scores of evidence that the news of the implant is fake and that the woman herself is an 'internet hoax provider since 2014'.
Jasmine Tridevil (not her real name) is seen only in the self-pictured photos and videos so far. The point that she could not get anyone to click her, but herself, is worth pondering upon, according to reports. The very fact that she got a doctor to perform the highly unethical procedure itself is questionable.
Also, it turns out, the massage therapist's domain name jasminetridevil.com is registered to an Alisha Hessler. However, the domain is now dysfunctional.
Hessler's business page at manta.com describes her as a "Provider of internet hoaxes since 2014."
If the above written evidences are not enough, here is another one. The website has found out that the woman has been arrested and made into headlines for a bizarre story last year too.
That story was about Hessler making a man hold up the sign "I am a woman beater. Honk if I am a scumbag". There was also a photo of Hessler's blood-covered face released by ABC news. She claimed the man beat her up and she gave him a choice of either going to prison or holding up the sign and sitting by the road side.
The local police confirmed that "Hessler withdrew her complaint and stopped returning [their] calls after she was pressed for details of the alleged attack," according to Snopes.com.
After her recent apparent third-breast implant, Hessler gave an exclusive interview to The Sun, slamming rumours of the news being hoax.
"This is not a fake. I had the procedure done. If people don't believe it, that's up to them," Hessler has been quoted as saying.
When asked by reporters to show her implant, Hessler did it, but with just a quick flash, reported local station 10 News Tampa. She said her implant would be seen in the sixth episode of her on show.
Hessler has claimed that the implant is her way of looking 'unattractive' to men because she does not wish to date anymore. Also, she underwent the expensive surgery to become a reality TV star.
She also claimed that she finally got to perform the surgery only after getting rejections from at least 50 of them.
She said, "It was really hard finding someone that would do it too because they're breaking the code of ethics," reported India Today.
She reportedly spent $20,000 for the surgery, which was performed a few months ago with silicone implants and a tattooed artificial areola.
Watch her video here: