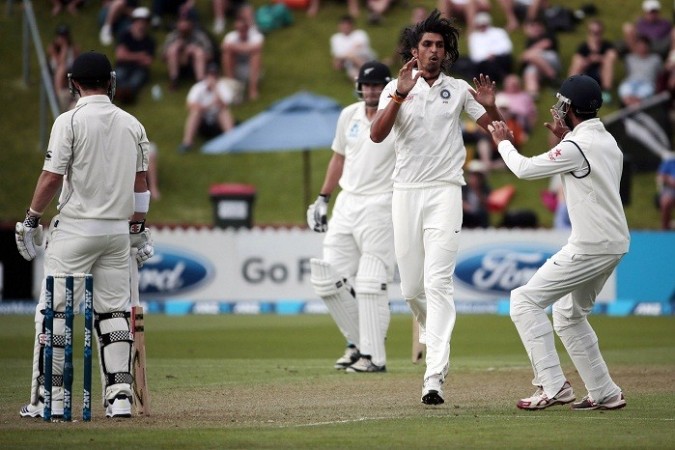 When MS Dhoni and Brendon McCullum, the two skippers, walked in for the toss, the pitch that India and New Zealand will be playing on at Basin Reserve in Wellington was only just recognisable from the rest of the ground - there was a tad less, not by much, grass on that surface.
On one of the greenest carpets you will get in modern-day cricket, Dhoni did what he does best, win tosses in New Zealand, and then said "over to you fast bowlers" with Ishant I-have-got-so-much-hair-you-can't-see-me-half-the-time Sharma (six for 51) leading from the front in some style to bowl New Zealand out for less than 200.
In reply, India finished Day One on 100 for two in 28 overs, trailing the Kiwis by 92 runs but holding that promise of tomorrow, a tomorrow which looks a lot brighter than it has done in Test cricket for a while for India away from home.
Put into bat first, New Zealand, on a pitch greener than two of their debutants, were always going to be up against it, if, a big if, the Indian bowlers found their right lengths and lines.
Coming off an outstanding bowling performance in the second innings of the first Test, the confidence seeped through easier than sand through fingers for the bowlers, with New Zealand planted behind the eight ball right from the off.
Hamish Rutherford and Peter Fulton have not convinced at the top for the Kiwis for a while now, and that lean patch continued with Ishant breaking through both the openers in the space of a couple of overs.
The first to go was Rutherford (12, 34b, 2x4), who fended at a searing, rising delivery from Ishant, with the ball looping to first slip where Murali I-can-finally-catch-the-ball Vijay grabbed the red leather with both hands in the tenth over.
New Zealand were chopped down to 26 for two soon after, with Fulton (13, 31b) caught in the crease and able to do little to prevent the ball from Ishant thudding onto his pads right in front of the stumps.
Ishant's relentless line and spirit continued to hit those heady heights, with Tom Latham given a do-you-think-you-can-handle-Test-cricket time, and the inevitable outside edge to MS Dhoni coming after seven scoreless deliveries - Latham will want to forget this duck on his debut as soon as possible, even if he wasn't exactly helped by the seaming and moving nature of the pitch.
With New Zealand now down to 26 for three, Mohammed Shami (four for 70) then decided to get in on the act, after Brendon McCullum (8, 19b, 1x4) and Kane Williamson threatened for a brief while to put on another will-you-please-get-out-say-the-Indian-bowlers-partnership, with the skipper driving one straight to Ravindra Jadeja at mid-off, who looked a little surprised to take the catch.
India should have put New Zealand five down just prior to Lunch, but Zaheer Khan made the cardinal sin of overstepping the mark, and with it rendering the outside edge and catch by Dhoni to dismiss Williamson, on just 15 at that time, null and void, and with it ensuring the home side would go into Lunch at 51 for four, rather than five.
Corey Anderson showed some controlled aggression during the early part of the post-Lunch session, smashing the ball out of the park every time he was given even a sliver of an opportunity, but it came as no surprise when I'm-inconsistent-but-deadly-on-my-day Ishant picked up his fourth wicket.
Anderson (24, 43b, 3x4, 1x6) went to play a shot through the onside, but only found an inside edge, which then went off his pads and looped to Virat Kohli at gully.
BJ Watling came and went soon after, with Ishant inducing another outside edge of a ripper of a delivery for his five-for, before the fast bowler was left to blame nobody but himself for overstepping the mark.
I-am-really-lucky-today Williamson inside-edged one off a rising delivery to Cheteshwar Pujara at short leg, but umpire Steve Davis asked to check for the no-ball, and replays showed a no-ball it was.
That proved to be a little costly for India, as Williamson and James Neesham, who had a much better debut than Latham, put on a quickfire partnership for the seventh wicket of 47 runs from 7.2 overs.
New Zealand, from 86 for six, were edging closer to that 200-mark when Williamson (47, 100b, 6x4) was finally sent back to the pavilion legally, with Shami, inducing an outside edge, which was well caught low down by Rohit Sharma in the slips.
Neesham followed suit a little before Tea, with Shami getting his third scalp of the innings, but not before he had fired a quick 33 from 35 deliveries, which included seven fours.
Tim Southee, in typical tail-ender style threw his bat at the ball for a while, managing 32 from 32 balls (1x4, 3x6), before Ishant and Shami picked up the final two wickets to end New Zealand's first innings on 192 all out.
India did not have the greatest of beginnings, with Murali Vijay going back in just the second over, gloving one to keeper Watling off Tim Southee.
Pujara hung around for 59 deliveries, making 19, before Trent Boult trapped him in front of the wicket. The Indian batsman was lucky to survive an lbw appeal in just the previous ball, with an inside edge saving him on that occasion, but not really learning his lesson, Pujara, got caught in the crease yet again, and with the ball tailing in and missing the bat to hit the pads, umpire Richard Kettleborough was given no choice but to raise his index finger.
However, Shikhar Dhawan (71 n.o., 87b, 10x4, 1x6), coming off that brilliant hundred under pressure in the second innings of the first Test, looked elegant and positive in the middle, and with I'm-also-an-effective nightwatchman Ishant at the other end, India finished the day in a we-can-do-the-dictating-of-terms from-here position.
With the pitch expected to ease out come Day 2 and three, there will be no better time for the away side to turn the proverbial screws and take firm control of the second Test.