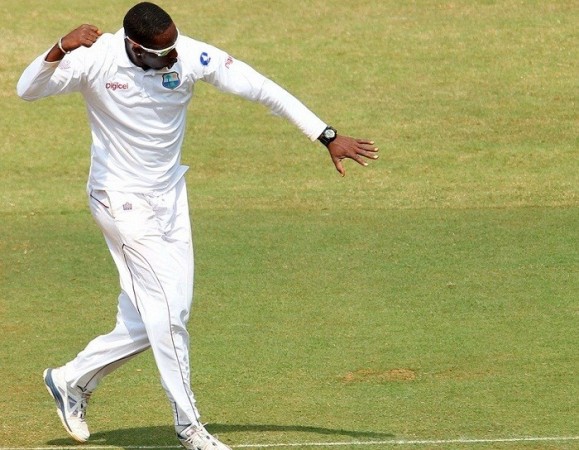 New Zealand will wonder just how they are not going into the second Test 1-0 up in the three-match series against the West Indies.
Having posted a mammoth first innings total, the Kiwis managed to bowl the West Indies out cheaply in their first innings, only for a brilliant double hundred from Darren Bravo, stubborn batting from Darren Sammy, and rain to deny them the opportunity.
The pitch in Wellington for the second Test match is expected to be a lot different from the one in Dunedin, which was pretty flat and did not offer too much help for the pace bowlers.
The New Zealand packed with a promising fast-bowling attack, they will, no doubt, look to take full advantage. "It's going to be totally different than Dunedin. As a bowler I do enjoy coming here; a lot more pace and bounce and it does swing here," Kiwi pacer Trent Boult was quoted as saying by ESPNCricinfo. "It was a pretty heavy workload but I'm feeling good. The whole bowling group are feeling good and taking a nice couple of easy days.
"Test cricket is extremely strenuous on the body and you've got to work out a plan and what works well for you. It takes a lot to keep going at that intensity and you've got to be smart with your down time."
The aspect in West Indies' favour, however, will be that they will have a fresher bowling attack with the New Zealand bowlers made to toil for two straight innings after Brendon McCullum enforced the follow-on in the first Test.
"After they took the last wicket in the first innings Brendon said to me as they walking out 'we are going to bowl again.' I said 'thank you very much Brendon,'" WI skipper Sammy said. "Their bowlers toiled and that's a lot of yards in the legs.
"It's going to be tough but I guess it's what we do as professionals. I guess my bowlers will be much fresher than their bowlers so hopefully we can go into the second test and they'll be a bit tired and we will be a fresher team."
It is an issue that McCullum is also aware of. "It is a little concern," McCullum said. "They put in a tremendous amount of work over the last few days and I couldn't ask for any more than what they've given. The wicket flattened out quite a bit like we knew it would at some point.
"We didn't probably expect the West Indies to negate our bowlers as much as they did for as long as they did and you've got to give credit to them for doing so."
New Zealand would have won the first Test match had the play not been stopped in the final day, and McCullum and co. will take that confidence into the second match starting Wednesday.
Team news: New Zealand will welcome the return of Kane Williamson, who missed the first Test with a finger injury. Williamson will replace Aaron Redmond in the side with that particular change expected to be the only one.
West Indies: Sammy and coach Ottis Gibson will have to decide on whether to play two spinners, despite the green nature of the wicket, with Sunil Narine waiting in the wings.
Where to Watch Live
The second Test is scheduled for a 3am IST start with live coverage on Neo Prime. There is no official live streaming option available in India. Viewers in the U.S., however, can catch the action live by clicking HERE.
Expected lineups: New Zealand: Rutherford, Fulton, Williamson, Taylor, McCullum (capt), Anderson, Watling (wk), Sodhi, Southee, Wagner, Boult.
West Indies: Powell, Edwards, Bravo, Samuels, Chanderpaul, Deonarine, Ramdin (wk), Sammy (capt), Shillingford, Best, Gabriel.