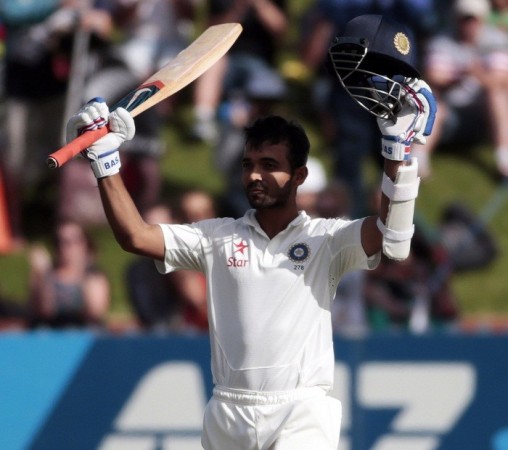 India's Plan A for Day 2 of the second Test in Wellington against New Zealand would have been - bat for as long as possible, make as many quick runs as possible, and ensure no second innings batting is needed.
If that plan was to succeed, India needed a now-that-is-what-I-call-a-good-Test-hundred innings from one, if not two, of the batsmen. Shikhar Dhawan fell a couple of runs short of reaching that mark, but India need not have feared as Ajinkya Rahane played a masterful knock, to reach his maiden hundred and, with some help from skipper MS Dhoni, push India's total to a this-might-not-have-batted-NZ-out-of-the-game-but-it-still-is-substantial 438 all out.
Rahane was supreme and a delight to watch, with cover drives, on-drives, cuts, pulls and will-you-please-stop-batting-say-the-Kiwi-bowlers-with-a-pleading-look in full view, as the Indian middle-order bat, who had got to plenty of starts in his fledgling Test career, finally went all the way, eventually finishing with a quite brilliant 118 (158b, 17x4, 1x6).
The result of that century was a lead of 246 runs - which Kiwis reduced to 222 after finishing Day 2 on 24 for one -- for India, who are desperate for a win in the second Test to level the series against the Kiwis.
Dhawan and Ishant I-spearhead-the-bowling-and-then-I-do-a-good-job-as-nightwatchman-too Sharma (26, 50b, 3x4) opened the proceedings for India, with the duo adding another 41 runs in the morning, from an overnight score of 100 for two, before the latter was caught behind off Trent Boult trying to tonk one outside the off stump.
But then, Ishant had done more than his job, with Virat we-need-a-hundred-from-you-now Kohli coming to the crease to ally with Dhawan, who looked well on course for his second consecutive century.
However, after finding the boundary with a delightful shot through the off-side to reach to within two runs of the three-figure mark, Dhawan (98, 127b, 14x4, 1x6) went for one shot too many outside the off-stump with Tim Southee finding the outside edge - or more the face of the willow.
India, though, still had plenty of batting to come to ensure they make a score of note and put the pressure firmly on the New Zealand batsmen, but that lineup was cut down a little more following the early dismissal of Rohit Sharma, who played yet another one-day shot, chasing a wide delivery from James Neesham and chopping the ball onto his stumps.
Rahane and Kohli calmed the nerves for India, putting on 63 runs for the 6th wicket, but with the run rate coming down drastically and Kohli, who took 93 balls for his 38, getting a little stuck, something had to give. That something proved to be a catch to short cover off the blade of Kohli with Neil Wagner again picking up a crucial wicket.
With India on 228 for six at that point, a lead of only 36 runs, Rahane and Dhoni had to put on a sizeable partnership, and they did exactly that, allying for 120 runs in just 24 overs, with the India skipper beginning his innings in handsome fashion courtesy four consecutive boundaries off Wagner.
Dhoni has not scored a Test hundred outside the sub-continent, but the way the he-might-not-be-elegant-but-he-certainly-is-effective right-hander was playing, a century looked inevitable.
Rahane and Dhoni were seemingly batting New Zealand out of the game, not just by occupying the crease, but also courtesy the speed with which they were scoring the runs on a pitch which had browned considerably since the start of play on Friday.
However, a combination of good bowling and poor shot selection dented India, with Dhoni, after a serene 68 (86b, 9x4, 1x6), gloving a dug-in delivery from Boult through to wicketkeeper BJ Watling.
Rahane was on 81 at that moment, and with Ravindra Jadeja (26, 16b, 6x4) falling after a quick cameo, the right-hander realised he needed to get to that hundred in quick time before he ran out of partners.
The elegant Mumbaikar did just that slapping a couple of boundaries to get to the nervous 90s, before belying that supposed nervousness by pulling a short ball to the ropes, while on 99, to storm to his maiden century.
The bat was raised in a calm manner, with Rahane following up the milestone with a couple of cracking boundaries more.
New Zealand finally dismissed the Indian batsman in the 102nd over, with Rahane (118, 158b, 17x4, 1x6), while trying to accelerate, skying one off Southee, with Boult running in and completing a quite outstanding one-handed catch.
Zaheer Khan added a few quick runs towards the end, as India bulged that lead to a we-can-win-the-match-from-here 246.
There is nothing worse for the opening batsmen than to play out the final half an hour or so before the close of the day's play, and Peter Fulton's anxiousness showed with the Kiwi opener, under pressure to perform, shouldering arms to a delivery that came in from Zaheer Khan in just the second over of the New Zealand second innings. The ball struck in front of off-stump and umpire Steve Davis had little choice but to raise that finger.
Hamish Rutherford (18 n.o., 32b, 3x4) and Kane Williamson (4 n.o., 17b) saw off the rest of the overs on Day 2, leaving the Kiwis still 222 runs behind India going into the third day.