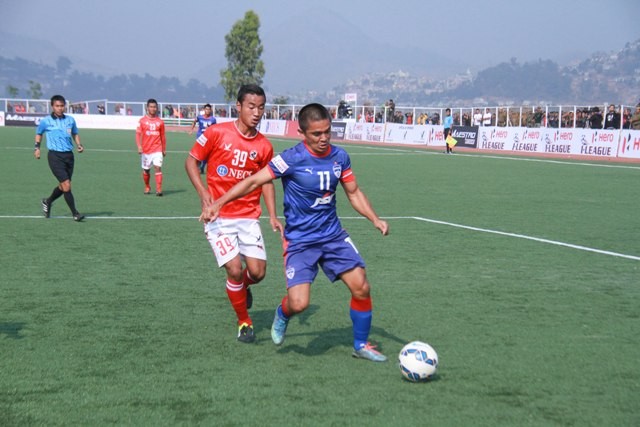 Six teams will compete in the 2nd Division League 2016 final round to book a berth in the premier domestic football competition of India -- the I-League -- next season. From a total of ten teams, six teams have made the cut to the final round.
The teams were divided into two groups -- the Eastern Conference and the Western Conference. The top three teams from each conference will now be pitted against each other in a regular league season.
While Mohammedan Sporting (West Bengal), Himalayans SC (Sikkim) and Neroca FC (Manipur) qualified from the eastern conference, Minerva Academy FC (Chandigarh), Dempo SC (Goa) and Lonestar Kashmir FC (Jammu & Kashmir) qualified from the western conference.
"We have seen an intriguing battle in the first round and all three debutants (Gangtok Himalayans, Neroca, Minerva Academy) proved their mettle," I-League CEO Sunando Dhar was quoted as saying by the IANS.
"I'm sure that the final round will also come up with an enthralling brand of football where these debutants will rub their shoulders with veteran powerhouses in the likes of Mohammedan SC, Dempo SC, and LoneStar Kashmir FC."
Last year, Mizoram outfit Aizawl FC made history by clinching the 2nd Division League title and becoming the only team from the North-East region to qualify for the I-League. This season too, just one team will earn promotion to the country's top flight football league.
2nd Division League 2016 finals schedule:
| | | | | |
| --- | --- | --- | --- | --- |
| Date | Team A | | Team B | Venue |
| March 26 | Himalayan SC | v | Dempo | Paljor Stadium, Gangtok |
| March 27 | Mohd Sporting | v | LoneStar Kashmir | Mohun Bagan Ground |
| March 29 | Neroca FC | v | Minerva Academy | Khuman Lampak Stadium |
| April 1 | Himalayan SC | v | LoneStar Kashmir | Paljor Stadium |
| April 2 | Neroca FC | v | Dempo | Khuman Lampak Stadium |
| April 3 | Mohd Sporting | v | Minerva Academy | Mohun Bagan Ground |
| April 6 | Neroca FC | v | LoneStar Kashmir | Khuman Lampak Stadium |
| April 7 | Himalayan SC | v | Minerva Academy | Paljor Stadium |
| April 7 | Mohd Sporting | v | Dempo | Mohun Bagan Ground |
| April 13 | Minerva Academy | v | Dempo | Sector 17 Ground |
| April 14 | LoneStar Kashmir | v | Mohd Sporting | Synthetic Turf Stadium |
| April 16 | Himalayan SC | v | Neroca FC | Paljor Stadium |
| April 18 | LoneStar Kashmir | v | Dempo | Synthetic Turf Stadium |
| April 23 | Mohd Sporting | v | Himalayan SC | Mohun Bagan Ground |
| April 23 | Dempo | v | Neroca FC | Tilak Maidan |
| April 24 | Minerva Academy | v | LoneStar Kashmir | Sector 17 Ground |
| April 29 | Mohd Sporting | v | Neroca FC | Mohun Bagan Ground |
| April 29 | Minerva Academy | v | Himalayan SC | Sector 17 Ground |