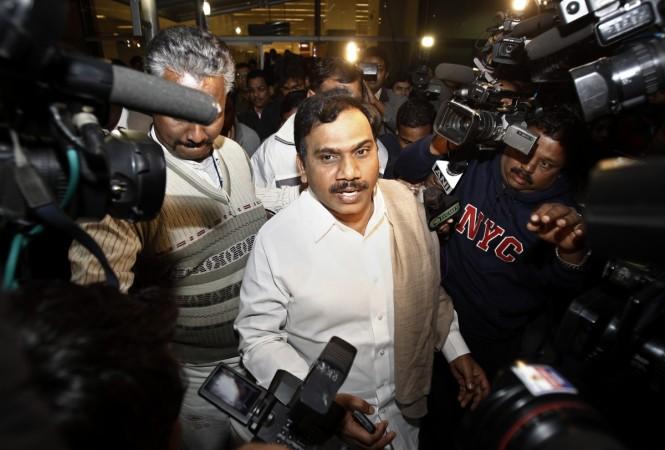 A special Central Bureau of Investigation (CBI) court on Thursday acquitted former Telecom Minister Andimuthu Raja, DMK Rajya Sabha member M Kanimozhi, and 15 other officials and corporate executives in connection with the infamous 2G spectrum allocation scam.
The scam had come to light in 2008 when the telecom ministry was accused of undercharging mobile telephone companies for frequency allocation licenses, which they used to create 2G spectrum subscriptions for cell phones. It is considered to be one of the biggest telecom scams in India.
However, the court has said that all acquitted in the case will have to furnish a bail bond of Rs. 5 lakhs each in order to ensure their presence in a higher appellate court if the verdict is challenged
The lawyer of Swan Telecom promoters Shahid Usman Balwa, Vinod Goenka and a few other aquitted people said that the court had observed that the prosecution has miserably failed to prove any of its charges and thus all accused were pronounced not guilty.
Congress leaders celebrate acquittal
Even as the acquitted people's supporters are celebrating the court's verdict, P Chidambaram has said that the allegations had been false since the beginning.
Even Kanimozhi has thanked her supporters.
"We are very happy that justice has prevailed. It is a big day for the DMK family. It is an answer to all the blames and the problems we faced." she said.
Congress leader Kapil Sibal has also echoed the same view as Chidambaram.
"I had always maintained that this was no scam. It was a scam by former CAG Vinod Rai. We stand vindicated," Kapil Sibal told News18.
Aaj meri baat siddh ho gayi, koi corruption nahi, koi loss nahi. Agar scam hai to jhooth ka scam hai, vipaksh aur Vinod Rai ke jhooth ka. Vinod Rai ko desh ke saamne maafi maangni chahiye: Kapil Sibal,Congress #2Gverdict pic.twitter.com/nHTCTyiziC

— ANI (@ANI) December 21, 2017
Even Shashi Tharoor has condemned the allegations.
Congress spokesperson Priyanka Chaturvedi took a dig at the Bharatiya Janata Party and mocked them for making "baseless accusations".
"Will BJP now apologise to the nation for stalling parliament for years, slowing down India's growth story, levelling baseless accusations against the then government for BJP's hunger to be in power at any cost? Shame on their power hungry politics," Chaturvedi tweeted.
Swamy wants govt to appeal in HC
Meanwhile, BJP leader Subramanian Swamy has said that the government should appeal in high court against the acquittal.
The CBI has also said that they are waiting for copy of the judgement, following which they will take legal opinion on it.
Activist Anna Hazare, said that "If the Government has concrete evidence, then they should take the matter to a higher court".
Finance Minister and BJP leader, Arun Jaitley has taken a jibe at the celebrations of the Congress.
"Each and every case of spectrum allocation was quashed by SC (in 2012) as arbitrary & unfair, the policy was quashed as unfair & intended to cause loss to GoI & the govt was directed to have a fresh policy by which an auction would take place," Jaitley said.
"We are very happy that justice has prevailed. It is a big day for the DMK family. It is an answer to all the blames & the problems we faced," he added.
When both A Raja and Kanimozhi arrived at the Patiala House Court to hear the verdict, the security had been tightened.
Raja knew he would win
Earlier reports had claimed that A Raja was sure that the judgement would be in his favour as he was heard telling BJP leader Swamy that he is in "safe hands".

"You are in safe hands," Swamy had said while pointing at Raja's counsel, following which the former telecom minister immediately replied to Swamy that "I was in safe hands from day one".