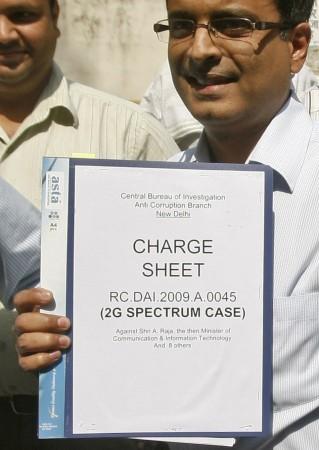 In a setback to CBI's investigation, Assistant Vice-President of Reliance Capital Ltd. Anand Subramanium has retracted his earlier statement in the 2G trial case.
Subramanium Friday told special CBI judge OP Saini that he could not recall under whose advice he had issued a letter for opening an account with the HDFC Bank for Swan Telecom.
In the earlier statement recorded by the CBI in March, Subramaniam, the first prosecution witness to be examined, said he had issued a letter for opening a bank account for Swan Telecom on the basis of telephonic instructions from senior vice president Hari Nair, who is the eleventh accused in the multi-crore scam.
The special CBI judge produced the letter - Exhibit PW 1/B - and the account opening form sent to the Fort branch of the HDFC Bank in Mumbai for Swan Telecom and asked Subramanium to verify whether he was one of the officials to who had signed them.
"I signed documents Ex Pw 1/A and 1/B as there was a board resolution in our favor, including myself. On seeing letter Ex Pw 1/B, I do not recollect as to under whose instructions I signed this letter," replied Subramaniam.
In the court, he identified four HDFC cheques for a total of Rs 9,000 crore which had been issued by Reliance Communication in favor of Swan telecom. However, he claimed that the cheques were signed by his colleagues and knew the signature very well.
He claimed that he was not aware if Anil Ambani was the chairman of Swan Telecom and he did not have reason to work with Group Managing Director of Reliance Anil Dhirubhai Ambani Group (ADAG) Gautam Doshi, its President Surendra Pipara and senior Vice President Hari Nair.
The three Reliance ADAG's executives, Gautam Doshi, Surendra Pipara and Hari Nair are in jail for cheating, conspiracy and hiding the fact that Swan Telecom was a cross holding of Reliance at the time of applying for the 2G licenses.
The court summoned the chief regulatory officer of Etisalat DB Telecom Pvt Ltd Vinod Kumar Budhiraja for examination.