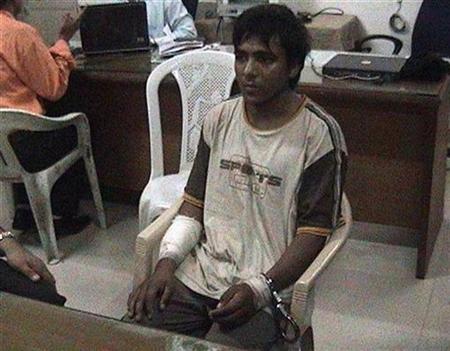 The Supreme Court on Wednesday upheld the Bombay High Court's order on 26/11 lone terrorist Ajmal Kasab's death sentence, reports said.
His death sentence was confirmed by the apex court bench of Justice Aftab Alam and Justice CK Prasad who accepted that the charges against Kasab for killing 166 innocents were the rarest of rare cases.
"Waging war against the country is the primary and foremost offence committed by Kasab," the top court observed."We are left with no option but to uphold the death sentence of Kasab."
Kasab had appealed against his death sentence from Arthur Road Prison, where he is presently lodged. He said that he was not given a fair trial and that legal assistance had failed to prove his case in the court. However, the bench held that the trial was inevitable despite the lack of legal counsel at the pre-trial stage.
Senior advocate Raju Ramachandran was appointed as the amicus curiae by the apex court to fight on behalf of Kasab.
"I bow to the verdict of the court. As amicus curiae I was given full opportunity to say all that I could in his defence. Let us take pride in our judicial system which adheres to due process, whoever be the accused and whatever be the crime," NDTV quoted senior advocate Raju Ramachandran as saying.
"I would like to say that the case was handled in a very professional manner.... I respectfully bow down to the verdict, India must feel proud that it is democracy and every accused gets to represent his case," First Post quoted Gopal Subramaniam, Advocate who represented Maharashtra state government in trial, as saying.
Kasab was sentenced to death on May 6, 2010, by an anti-terror court. The Bombay High Court later upheld the order on Oct 10, 2011. He was convicted on charges of criminal conspiracy, waging war against India, Section 302 of IPC (punishment for murder) and under the Unlawful Activities (Prevention) Act.