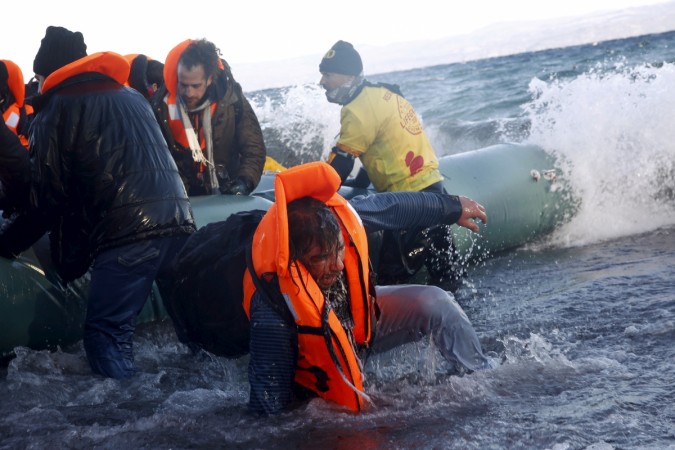 Update: 4:11 pm IST — At least four people died after a boat carrying hundreds of migrants capsized near Greece. Around 340 people have been rescued, the Associated Press reported.
Original Story — As many as 250 people have been rescued off the island of Crete in the southern part of the Aegean Sea in Greece, the coastguard said on Friday, as part of a massive rescue operation that ensued after a vessel carrying 700 migrants making their way to Greece capsized on Friday.
A ship passing by the area raised an alarm after those onboard witnessed the capsizing vessel with hundreds of migrants. A plane, a helicopter, two patrol boats and four ships that were passing by have joined the rescue operations.
"The number of people in distress could be counted in the hundreds," a spokeswoman for the coastguard was quoted as saying by Channel News Asia. "People are in the water, boats crossing the area have thrown lifebuoys and are moving to save the migrants.
"So far about 250 people have been rescued, based on the first data," coastguard spokesman Nikos Lagkadianos told Skai TV, according to Reuters.
The spokeswoman also said half the boat was in the water. She added that the origin and destination of the boat was unknown.
More journeys to Europe are being undertaken by fleeing Syrians as the weather has improved, BBC reported.
Migrants fleeing Syria are known to take dangerous maritime routes to reach the Crete Islands of Greece from Turkey on their way to Europe in search of better living conditions.
The United Nations on Tuesday said at least 204,000 migrants and refugees crossed the Mediterranean to reach Europe in 2016 alone. The perilous journeys have also led to the deaths of at least 2,500 people, the U.N. had said. The migrant issue has been a point of contention between various European nations as many languish in camps despite pledges made by European countries to take them in.