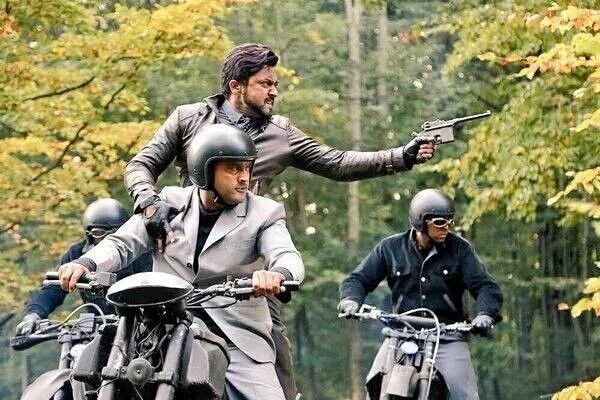 Suriya's "24" has opened to highly positive reviews. Suriya's acting backed by good story has won the hearts of the audience.
Bilingual movie "24" stars Suriya in triple roles and Samantha and Nithya Menen have played female leads in the flick, written and directed by Vikram Kumar. Jnanpith laureate Girish Karnad, Ajay, Saranya Ponvannan, Sathyan, Mohan V Raman and others are part of the cast.
'24' Movie Stills | 5 Reasons to Watch Suriya's Film | Will '24' break premiere show record of Vijay's 'Theri?'
Two-time Oscar Award winner AR Rahman has scored the music for "24," whose "Kaalam En Kaadhali," "Naan Un," "Mei Nigara" and "Aararoo" songs have become chartbusters. Tirru and Prawin Pudi are the other key members of the technical team who have handled cinematography and editing departments, respectively.
The movie is a science-fiction, which revolves around a time machine. Sethuraman, who invents it, leads a happy life with his wife Priya (Nithya Menen) and his son till his wicked twin brother Athreya sets his eyes on the device. The baddie goes to any extent in order to keep his hands on the time machine.
However, the inventor prevents Athreya from snatching the time machine from him despite losing his life and saving his son. After 26 years, the search for the device begins after Athreya discovers Sethuraman's son and watchmaker Mani (the third role played by Suriya). How the baddie fights to get the device in his hands from the hero forms the remaining part of the story.
Average Ratings Given by Audience: 3.5
Reviews:
The movie, "24" has got unanimous positive reviews from the viewers. The brilliant screenplay with interesting twists and turns are the strengths of the story. Suriya's performance in triple roles have been highly appreciated by the audience, who also point out that the film has all the commercial ingredients like romance, comedy and action despite being a science fiction. The eye-pleasing visuals and time travel moments have been liked by them.
The technical departments in "24" has played a major role in its success. The cinematography, production design, VFX and costume designing departments have ensured that the quality of the film is no less to Hollywood standards. On the flip side, the romantic part between Suriya and Samantha works as a speed breaker. Overall, the film needs a little trimming to have better outlook. Nonetheless, it is a complete entertainer, which can be enjoyed by all section of audience, say viewers.
Here, we bring to you the response to the film from the audience:
Sreedhar Pillai: #24 3.5/5.Enjoyable fantasy entertainer.#VikramKumar's time travel concept interesting +awesome @Suriya_offl triple role + technically chic
#24 3.5/5. #Vikram's fusion of sci-fi, action, romance & comedy, with top class technical wizardry- #Thiru's camera, Production design & VFX
#24 3.5/5. @Suriya_offl ,triple role outstanding #Athreya being the pick, though #Mani great fun. Film belongs to him, there in every frame
#24 3.5/5.@Samanthaprabhu2 is likable does comedy scenes with ease. #Nithya is good with limited screen space. #Saranya as usual best mom.
#24 3.5/5.Interval block terrific, @arrahman BGM, fab. Way locations in Poland & Pune been mixed perfect color tone & lab set brilliant.
#24 3.5/5 . Downside – Tooo long, especially 1st half needs trimming, songs & romance speed breakers. On the whole decent summer watch.
Praveen: #24TheMovie interval : #24TheMovie (3.25/5) — Intellectual & boundless entertainment. Hollywood scale quality writing & appropriate filmmaking.Worth every penny.
#24TheMovie — A cinematic treat where scifi & human relationships co-exist, the refreshing experience enriches the narration all the more!
'24' #24TheMovie — Ambitious in every aspect. 3 cheers 2 dir. Vikram Kumar for coming out with an interesting genre that's seldom tried.
#24TheMovie — @Suriya_offl mesmerises with his first unique triple act. #Suriya defines what versatlity is with his excellent variations
'24' #24TheMovie— @Suriya_offl is king-like as Athreya.Majestic screen presence in the terrific villain role.Cant get my eyes off.Big plus.
'24' #24TheMovie — #ARR strikes gold with the mirattal BGM and aptly placed songs. Astonishing camerawork by @DOP_Tirru. Art direction Wow.
#24TheMovie — On the flip side the romance and Samantha's portions looked outright silly. "Basically I am a watch mechanic" goes overboard.
Haricharan Pudipeddi: #24TheMovie first half totally belongs to #Aathreya even though he appears briefly. #Suriya's screen presence is amazing.
The VFX and the time travel moments are top notch in #24TheMovie, while the interval block is equally good.
Barring some romance portion, #24TheMovie is terrific and nearly flawless. The writing is top class and #Suriya was so, so good.
#VikramKumar has proved his mettle as a writer with each outing and with #24TheMovie he takes a plunge into a different league.
Thinkal Menon:#24TheMovie @Suriya_offl back with a bang. Proves again why he's the best in his generation when it comes to effortless performance
#24TheMovie romance, sentiments, villain role - his on screen acts r a treat, coupled with top notch screenplay, great visuals n superb CG
#24TheMovie VikramKumar Kumar pulls of a complicated script again. One of the best high budget films with an unusual story in Tamil
#24TheMovie @Samanthaprabhu2 and #Nithya looked like a million bucks with substantial roles. Good chemistry with @Suriya_offl @2D_ENTPVTLTD
Rajasekar: #24TheMovie - Finally a big budget Tamil film where I could see all the money on big screen.@2D_ENTPVTLTD & @Suriya_offl 've set a benchmar
#24themovie - Thiru's cinematography is big plus, he is another hero of the movie. Visuals are on par with Hollywood standards!
#24TheMovie - Except for so called the romantic portions, I'm sold. Incredible attempt by the director, hats off!
#24themovie - Brilliantly written sci-fi entertainer. Take a bow Vikram Kumar & @Suriya_offl , takes Tamil cinema to the next level
#24themovie - out of the box attempt with a stunning interval block. Vikram Kumar simplified d concept that even a 6 year old can understand
NK_Wayne posted: Just watched #24TheMovie ; Woow ! The story is really well written, such a good storyline idea. @2D_ENTPVTLTD
And Athreya character was so damn excellent! The best and thrilling one until the last scene.. No mercy here @2D_ENTPVTLTD
@Suriya_offl you keep surprising me all through the movie and even years... the villain character suits you sooo perfectly. Well done!!
Highly recommended movie - It's not a regular kind of tamil movie storyline. Goo watch it! It's an awesome one! #24TheMovie @2D_ENTPVTLTD
Hats off to Vikram Kumar for the brillance and also for the excellent emotional and funny romantic scenes. #24TheMovie @2D_ENTPVTLTD
Kamaljii: Director made Time Travel understanding simple & brilliant for "all class" of Today's audience. Will reach/run well.
Mass church scene followed with Good Climax with logics cleared convincingly.
#24TheMovie Review 3.75-4/5 Watch d Film as TimeTravel concept, rest all will exceed ur expectations. Can b #Suriya's Big BO money spinner
#24TheMovie Don't miss the end credits. Family kids will love it undoubtedly Will remain in #Suriya's Top Best movies so far in Performance
#24TheMovie Dir #VikramKumar has sculpted the movie with sheer hardwork & Brilliance. Matches Hollywood style & Mani's Role satisfies B&C
Loving the 2H starting with 12 mins emotional scene bw Mani & SaranyaP with pure magic of #ARR Flute+Tabla BGM making it soulful #24TheMovie
Taran Adarsh: It requires courage, conviction, command over the medium and of course, financial strength to bring to life a film like #24TheMovie...
#24TheMovie grabs your attention from the titles itself and for the next 2.40 hours you're hooked on to this terrific roller coaster ride...
Biggest strength of #24TheMovie is its concept. It also packs loads of entertainment and unpredictable twists and turns that win you over...
High points: Dramatic start, cute light moments [Suriya-Samantha], fab interval point, emotional moments, the culmination #24TheMovie
Vikram Kumar, who directed the terrific #Manam [Telugu], displays his mastery yet again. He handles the subject with brilliance #24TheMovie
Suriya, in triple roles this time, delivers an award-worthy, knockout performance. He's stupendous as the evil antagonist #24TheMovie
#24TheMovie is not just a good looking film, but has lots to offer. Kudos to the team for pulling off the subject with élan!
Ramesh: #24TheMovie : A well made Hollywood style Sci-fi thriller with romance, comedy & Sentiments.. @Suriya_offl rocks.. #VikramKumar has done it
#24TheMovie 1st Half: Visuals are Hollywood range.. @arrahman 's Theme BGM is Marana Mass.. Technically, Dir #VikramKumar has delivered best
#24TheMovie 1st Half: Dir #VikramKumar has used a creative twist which even Hollywood movies haven't tried.. So far, so good.. Looking 4ward
#24TheMovie 1st Half: @Suriya_offl - @Samanthaprabhu2 scenes r very cute, thanks to creative use of time travel.. Sam looks lovely in song
#24TheMovie 1st Half: Mersal Making.. Innovative Time travel concept.. Athreya scenes r Top notch.. @Suriya_offl is rocking in all roles..
Kaushik (LMK): #24TheMovie -The twists are done with such intelligence. Pay attention!!Time travel, fantasy elements have fueled #VikramKumar's imagination
#24TheMovie - Warrants repeat viewing thanks to the layers and depth in the script. 3.5 / 5.. Perceive and make sense of the film with fun
#24TheMovie - Royal return for @Suriya_offl aided by #VikramKumar's brilliance, novel genre& a fantastic tech team. Hope the film wins at BO
#24TheMovie - Romance portions drag in the 2nd half, some trimming will make the film even sharper and deadlier. That's the only drawback
#24TheMovie - Amazing depth and layering in #VikramKumar 's fantasy script.. Time travel element used brilliantly. Climax has wow moments
#24TheMovie -3.5 / 5.. Grt intelligence in #VikramKumar's script, demands our attention & intelligence, fabulous making standards. Go watch
#VikramKumar and @DOP_Tirru have delivered Shankar like visuals in 24's Naan Un Azhaginiley WOW on the big screen.
ChristopherKanagaraj: #24themovie | Good 1st half, Interval block superb.Outstanding Cinematography esp first 20 mins, songs oky, little slow & lengthy 1st half.
#24TheMovie | Good sci fi movie, wonderfull screenplay from Vikramkumar. Plot is similar to 'IndruNetruNaalai'. Surya rocks in 3 characters!
Surendhar MK: #24TheMovie: Hats off to @Suriya_offl for embracing this ambitious project. His relentless hunger to push the limits has finally paid off.
#24TheMovie: Intricacies in Vikram Kumar's screenplay deserve big applause. Kept me genuinely surprised with sumptuous twists and turns.
Discard the slightly uninteresting romance portions, #24TheMovie is a meticulously written and smartly engineered sci-fi film. Kudos to VK
#24TheMovie: Slightly lengthy first half. Simplification of sci-fi gels with the screenplay, despite a bit overdone in romance portions.
#24TheMovie: Safe to say I've not witnessed so much precision in production design in Tamil cinema in a long time. Great job Amit & Subrata.
#24TheMovie: @Samanthaprabhu2 looks so pretty and GORGEOUS in #MeiNigara. Picture perfect visuals from @DOP_Tirru. Delightfully shot.
Kannan: #24TheFilm - Kudos to @2D_ENTPVTLTD for pulling off such an ambitious project! Classy look, neat VFX & engaging script makes it a winner!!
#24TheFilm - #VikramKumar explored time travel concept superbly with interesting screenplay, kept the proceedings light as & when required.
#24TheFilm - #Thiru's camera work simply mind blowing & takes the film to all new level, #ARR's songs and BGM another big plus to this film.
#24TheMovie - #Samantha never looked so beautiful on screen & her romance portion lively & enjoyable! #Saranya & Supporting cast solid too.
#24TheMovie - #Suriya finally back with a bang as #Athreya, the deadly villain! He's equally good as #Sethuraman & so charming as #Mani!!
#24TheMovie - Fantastic sci-fi thriller that has good amount of romance & fun, executed with top notch production design. Go 4 it! (8/10)