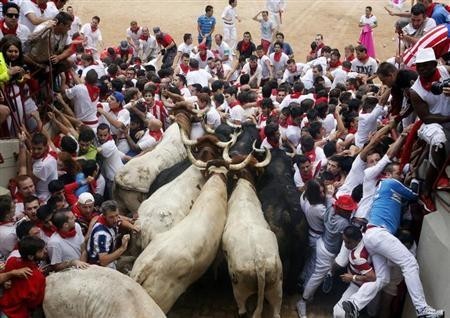 Dozens of bull-runners were trampled upon as they got trapped at the entrance gate to a bull ring in the Spanish city of Pamplona on Saturday.
At least 23 daredevil runners were crushed in a pile up by the bulls at the annual San Fermin run and taken to hospital for serious injuries.
As the huge animals were closing towards the runners, their sheer number trying to enter the bull ring had forced shut a door that was usually left open. For the whole two minutes both, the runners and bulls were trapped in the bottleneck of the entry gate.
Each year, hundreds of people including tourists from world over are attracted to the week-long festival in Spain. Hundreds are treated by medicals and the Red Cross at the scene for injuries without being hospitalised. The run at Pamplona takes place in the first week of July at 8 am every morning. Saturday's run lasted four minutes and 15 seconds.
The thrill seekers are dress all in white with just a small red neckerchief to attract the bulls towards them. Many spectators stay up all night at nearby bars all night before the run begins.
On Saturday, dozens were being treated in the local hospitals for injuries due to the mishap.
A 19-year-old Spaniard was in a 'very serious' condition. A 28-year-old man from Ireland made headlines as he had suffered chest trauma although he did not suffer from serious injuries, local authorities told Reuters.
In another case, a 35-year-old man from the US was gored in the buttocks by a bull during the run, while an 18-year-old from Spain was 'gored in the armpit in the scrum at the bullring gate,' the report said.
Three male runners were gored during Friday's run. An American tourist had to have his spleen removed after the Friday's run.
According to annual reports, goring happens usually but stampedes are rare. This time the stampede leads to dozens of runners being injured. Usually, the bulls are killed by the bullfighters as they enter the ring.
In the last 100 years, in the San Fermin run, 14 people have died.