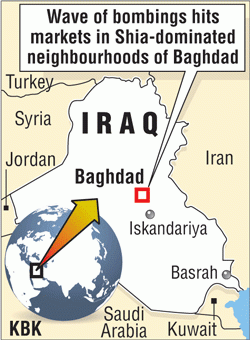 Update: 4:30 p.m. IST - At least 44 people died and 90 people were injured on Tuesday in twin bombings in Baghdad. In al-Shaab area, 38 were killed and 70 were wounded, while six died and 21 were injured in al-Rashee.
Original Story - At least 23 people reportedly died in Baghdad on Tuesday in two separate bomb blasts in the Iraqi capital. A suicide bomb blast killed 17 people and wounded 28 in a marketplace in a predominantly Shiite area while a car bomb in another neighbourhood killed six and injured 21 people.
The suicide bomb attack took place in al-Shaab and the car bomb blast took place in al-Rasheed. The blasts took place simultaneously, a Baghdad Operations Command told Sky News.
No group has claimed responsibility for the attack on Tuesday.
The Islamic State group had recently claimed two attacks that left around 100 people dead in the Middle Eastern country.