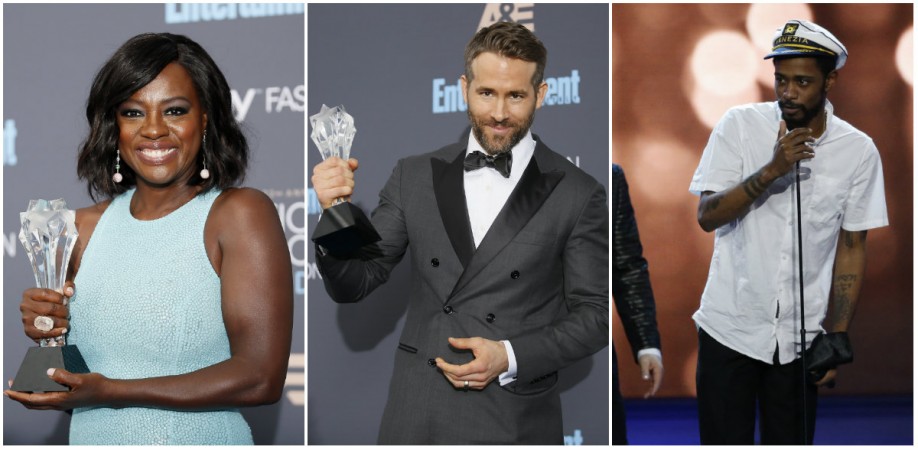 The 22nd Annual Critics' Choice Awards took place on Sunday and many stars graced the occasion to cheer for their favourite actors and actresses. There were many memorable moments during the night, but a few stole the limelight.
The first highlight of the night features the beautiful and talented How To Get Away With Murder actress Viola Davis. The actress won the best-supporting award for her role in Fences and was nominated for best actress for the drama series How to Get Away with Murder. She is also the recipient of the first-ever #SeeHer award, presented by the Association of National Advertisers in association with A&E, that honoured Davis for accurately portraying women and girls in the media.
The award was presented by Amy Adams, and an emotional Davis accepted the award and thanked the audience and critics. "It's hard to accept being a role model for women when you're trying to lose weight," she joked. "I've always discovered the heart of my characters by asking: 'Why?'. When I was handed Annalise Keating, I said: 'She's sexy, she's mysterious. I'm used to playing women that have to gain 40 lbs and wear an apron. So, I said, 'Oh god, I gotta lose weight. I gotta learn to walk like Kerry Washington in heels. I gotta lose my belly.' And then I asked myself, 'Well, why do I have to do all that?'"
Concluding her speech, she said, "I truly believe that the privilege of a lifetime is being who you are and I just recently embraced that at 51. At 10 pm, every Thursday night, I want you to come into my world. I'm not going to come into yours. You can come into mine. My size, my hue, my age and you sit. And you experience. And I think that's the only power I have as an artist. So I thank you for this award and I do see her, just like I see me."
This stellar acceptance was followed by another memorable moment. Ryan Reynolds was awarded the Entertainment Weekly's Entertainer of the Year award. As the Deadpool actor took the centre stage to thank everyone involved in the making of Deadpool, he surprised the audience with a touching speech. As he spoke about the character suffering from cancer, the actor dedicated his award to two cancer institutions.
"The character had cancer and some of the people that this character resonated with were sick kids. So I would like to dedicate this honour to the Make-a-Wish Foundation and the SickKids Foundation of Toronto, two incredible organisations that do so much for so many kids in need," Reynolds said. The 40-year-old actor also dedicated the award to two of his friends who passed away from cancer. "They started a fight and it's up to us to finish it," he said.
Also, Atlanta's Lakeith Stanfield, also known as Keith Stanfield, created an awkward yet funny moment as he pulled off a Kanye West at the Critics' Choice Awards by gatecrashing the stage after Silicon Valley won the Best Comedy Show segment.
As the presenters announced the winner, Stanfield walked up, collected the award (despite his show not winning the segment) and took the centre stage and said, "I want to thank everyone for honouring us in this way. We worked very hard on Silicon Valley and here we are. Thank you." However, Silicon Valley's executive producer Tom Lassally took the gate crashing pretty well. You can catch the awkwardly hilarious video below: