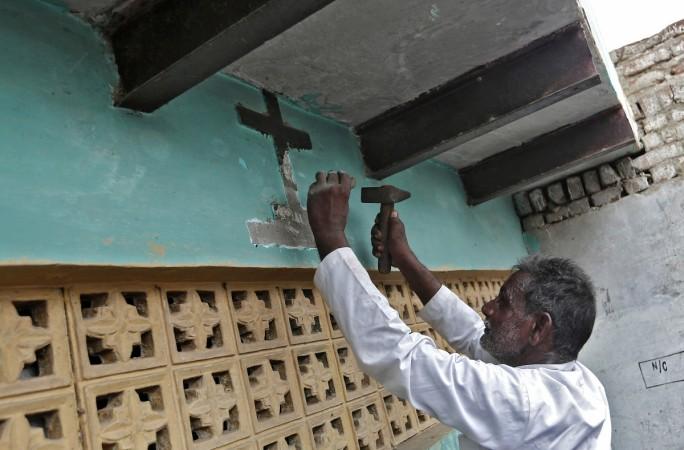 The Vishwa Hindu Prishad (VHP) claimed that over 200 tribal Christians "voluntarily re-converted" to Hinduism on Saturday in Gujarat's Valsad district.
Taking responsibility for organising the Maha Yagnya – a ritual of the sacred fire – for "purification" of the tribals in Valsad's Aranai village, Valsad district VHP chief Natu Patel said the people who underwent the "re-conversion" ceremony were not forced into embracing Hinduism.
"As part of the ongoing 'ghar-wapsi' programme, VHP today (Saturday) re-converted 225 people from Christian community and took them back into Hindu religion," Hindustan Times quoted Valsad district VHP chief Natu Patel as saying.
According to another VHP member Ashok Sharma, at least 3,000 people had gathered to participate in the ghar wapsi ceremony organised by the VHP, but only 225 people "re-converted" to Hinduism.
"VHP greeted around 225 people back in their own religion in Valsad. We have not forced them, they came on their own wish," said Sharma.
Commenting on the issue on Sunday, Congress leader Rashid Alvi said the Hindu outfits are destroying the country's image of India by conducting religious conversion in various parts of the country.
"In the world, India had a different image of having people practising various religious beliefs, speaking different languages -- based on which the country was built... These actions will only create bad impression about the country," Alvi told ANI.
"Rashtriya Swayamsevak Sangh and others are trying to destroy the country. If these people have been converted by coercion or inducement then it is a clear violation of law. But then what kind of image of India will be in the world," he added.
The offshoots of the Rashtriya Swayamsevak Sangh (RSS) and Bajrang Dal have enraged the opposition with their repeated "conversions" in Uttar Pradesh. The events created ruckus in the Parliament for almost a week during the winter session.
Opposition party MPs have been demanding action against Hindu groups who carried out "conversion" ceremonies in UP and Bihar. They had also insisted that Prime Minister Narendra Modi should speak on the issue.
Earlier this month, an RSS offshoot had organised a ceremony for the ghar wapsi (homecoming) of 200 Muslims in Agra. The Hindu group claimed that they "re-converted" them from Islam, which was forced upon them several years ago, even though their ancestors were originally followers of Hinduism.
This was followed by two separate incidents in which at least least 75 people were "re-converted" from Christianity and Islam to Hinduism in UP's Bahraich district and Bhagalpur in Bihar.