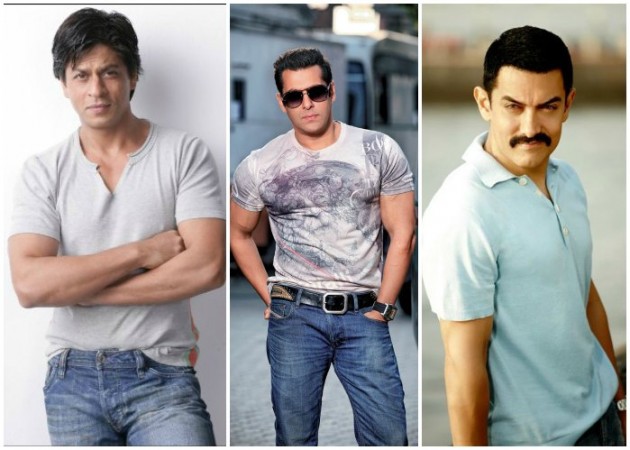 Three of India's biggest superstars – Shah Rukh Khan, Salman Khan and Aamir Khan – have come together to commemorate 21 years of India's longest running talk show "Aap ki Adalat" hosted by Rajat Sharma.
Needless to say, this is a first in the history of the Khans that the trio has shared the same platform to celebrate success. Sharma, who made stars speak the truth on his show, took to Twitter to express his gratitude.
"I thank viewers for making #AapKiAdalat longest running show ever on Indian Television #21YearsOfAapKiAdalat | @IndiaTV," the host posted.
While the three Khans are not really known to be very friendly, from the inside pictures it is clear that the Khans had a good time on the show. From doing the famous 'towel dance' to planting a kiss on Sharma's cheeks, the stars were in a mood to have fun. They have all been invited for the show twice but never been on it at the same time.
The only time they came together was at Aamir's "3 Idiots" premiere but the camaraderie was clearly off and lacked warmth. While SRK spoke to the "PK" star at length, Salman was spotted making his way out of the area.
The warring Khans had a bitter fallout in 2008 at Katrina Kaif's birthday party, following which they had stopped interacting with each other publicly. Aamir, though, always maintained a cordial relationship with both of them.
Together Salman and SRK have starred in three films – "Karan Arjun" (1995), "Kuch Kuch Hota Hai" (1998) and "Hum Tumhare Hai Sanam" (2002) – whereas Aamir has shared screen space with the former in cult comedy "Andaz Apna Apna" (1994).
To be reportedly aired on 7 December, the programme was attended by a flurry of stars. Rani Mukerjee, Anil Kapoor, Sonakshi Sinha, Ajay Devgn, Shilpa Shetty and Raj Kundra, Anupam and Kirron Kher, and Gautam Gambhir among others graced the occasion. The President of India, Pranab Mukherjee and Prime Minister Narendra Modi were also in attendance.
Aamir , Salman , Srk & Rajat Sharma Doing Towel Dance #EpicMoment pic.twitter.com/I07La5eV5J

— Aamir Fan Forever (@Dhoom_Aamir) December 3, 2014
Rajat Sharma is Having an Arpita Khan Moment With SRK and Salman @RajatSharmaLive pic.twitter.com/4obALSd90j — M A D R I (@gauriness) December 3, 2014
Salman Khan, SRK and Aamir Khan on stage of #21YearsOfAapKiAdalat pic.twitter.com/w47uZk62Vr

— Bajrangi Bhaijaan (@SalmansSoldier) December 2, 2014