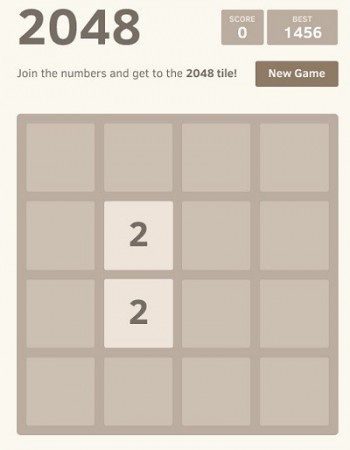 2048, the free-to-play math puzzle, has reached the popularity of Flappy Bird. This is a simple game, offering players an addictive card puzzle on web browsers and mobile phones.
Players will have a four by four grid, where you add up the numbered tiles together by moving them via arrow keys. But any addition of twos to fours and to eights also brings in new numbered tiles to the box.
The game was created by a 19-year-old Italian programmer Gabriele Cirulli, and it is mentioned it is similar to Threes by Asher Vollmer.
Players will have to plan their moves and strategies to make high scores. Here are some tips to help you make high scores:
Do not make haste - Players wanting to score high should not play it in a hurried fashion; they must take their time and think of not only their next move but also about moves that are yet to come.
Lining up - It will be helpful for players to set up lines in matches. Players will have to set up pairs in a line so that they can work on the combos as new tiles come. This will allow you to make more space on your board.
Pushing it to a corner- Putting tiles in one corner is very helpful to make a high score. While one report asks players to consider moving it to the bottom left as twos and fours can be added faster, another urges players not to use 'up arrow' at all, unless absolutely needed.
Relax - Players must realise that it is just a game and ease up.
Set up columns - Players can set up columns that will give them the leeway to combine quickly and to move them back together. This is needed when players end up with 64s or 128s in opposite corners, which is disheartening.
Be alert - It is not always that players will get two as their new tile.
Move tiles without match - Players can move some tiles without any match and in any direction which might help in moving larger tiles closer.
Clear the board - If players, with all the strategies, are in doubt about what to do, clear the board out by regrouping and giving some space.
The game is free on iTunes App Store and Google Play Store. It is also available for web browsers here.