German auto giant Volkswagen has taken the wraps off third-generation Touareg SUV at a special event in Beijing to celebrate the brand's 30 years of presence in the Chinese market. The 2019 Volkswagen Touareg will be the carmaker's new flagship model in Europe and Asia, and comes packed with an array of new technologies.
Volkswagen India had launched the second-generation of the SUV in 2012, but it was discontinued soon due to poor sales. It is not clear if the third-generation will be launched in India.
International Business Times India has compiled a list of things you need to know about the new Touareg SUV.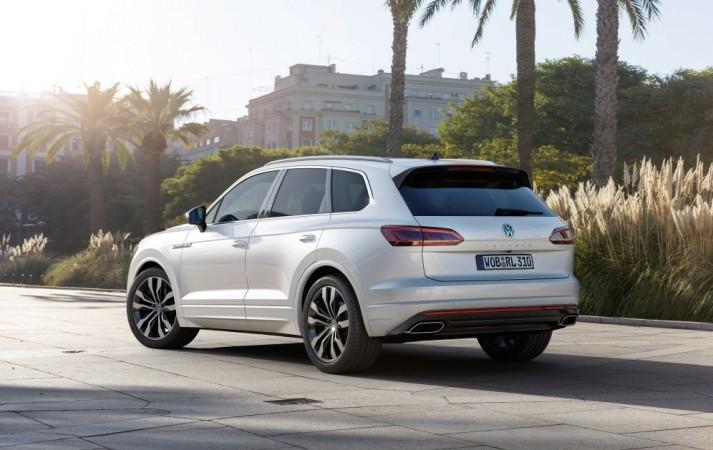 1. The 2019 Volkswagen Touareg SUV is based on the MLB Evo platform of the VW Group. For the uninitiated, the same platform also underpins Audi Q7, Porsche Cayenne, and Lamborghini Urus.
2. The revamped Touareg has grown in size. The SUV is 77mm longer at 4,878mm, 44mm wider at 1,984mm and sits 7mm lower at 1,702mm. The trunk's capacity has also gone up from 697 liters to 810 liters.
3. The new Touareg features a new design shift up front. The integrated grille and headlamp cluster is in line with the Arteon sedan which was showcased by VW at the 2017 Geneva Motor Show.
4. The interior of Touareg is spruced up with new high-quality dual tone upholstery and has seating space for five adults. The ventilated front seats come with massage function.
5. The 2019 VW Touareg gets massive 15-inch touchscreen infotainment system, the biggest in a Volkswagen yet. It is complemented with a fully-digital 12-inch instrument cluster.
6. The technological package in the new Touareg includes all-wheel steering, four-corner air suspension with electronic damping control, four-zone air conditioning, a 730-watt, 14-speaker Dynaudio sound system, a night vision system for animal detection and others.
7. The 2019 Touareg will be powered by a 3.0-litre V6 diesel engine which generates 278hp and 599Nm of torque. Another 3.0-litre V6 diesel mill is also on offer with toned down 225hp and 500Nm of torque. The 3.0 V6 petrol mill will develop 330hp and 450Nm of torque.