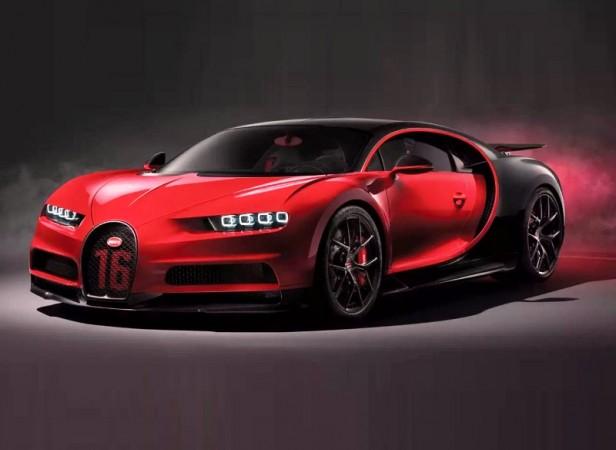 French high-performance carmaker Bugatti had unveiled Chiron, the successor of Veyron supercar, at the 2016 Geneva Motor Show. After two years, now the company has showcased Chiron Sport at the same show.
For those who think Bugatti has increased whopping 1479bhp of Chiron further in the Sport version, that's not the case. The engine is the same W16 8.0-litre engine with four turbochargers that develop 1600Nm of torque mated to a seven-speed dual-clutch gearbox. The 0-100kmph time remains the same 2.5 seconds and the top speed is also untouched at 420kmph.
How different is Chiron Sport from regular Chiron? Bugatti has basically reduced the weight of the Chiron in its journey to the Sport version. The Chiron Sport is 18 kg lighter than the regular Chiron, thanks to the use of new lightweight parts. The intercooler cover, stabilizer, and even windscreen wipers are made of carbon-fiber while the Sport version also gets lightweight wheels. In addition, Chiron Sport features lighter glass in the rear window and a new, lighter exhaust deflector.
Why is it called in Chiron 'Sport' then? Bugatti claims the weight reduction programme makes the Chiron Sport faster around the corners. It can lap the Nardò handling circuit in the south of Italy five seconds faster than the regular Chiron.
Bugatti has also reworked some of the technical bits to make the Chiron Sport actually sporty. Christened dynamic handling package, it includes a stiffer suspension and a recalibrated steering wheel. The rear-axle differential has been optimized and the car now features a Dynamic Torque Vectoring function that distributes torque individually to the wheels on each side.
The prominent '16' badging on the front grille is the only visible identification mark for the Sport version in addition to the new alloy wheels. Inside the cabin, a generous amount of Sport badging differentiates the two versions.
Of course, the weight-loss diet has increased the price of Chiron Sport. The regular Bugatti Chiron is priced at 2.4 million euros (approximately Rs 19.36 crore) while the Sport version will cost 2.65 million euros (Rs 21.38 crore). Over Rs 2 crore for weight reduction? It's an expensive diet indeed.