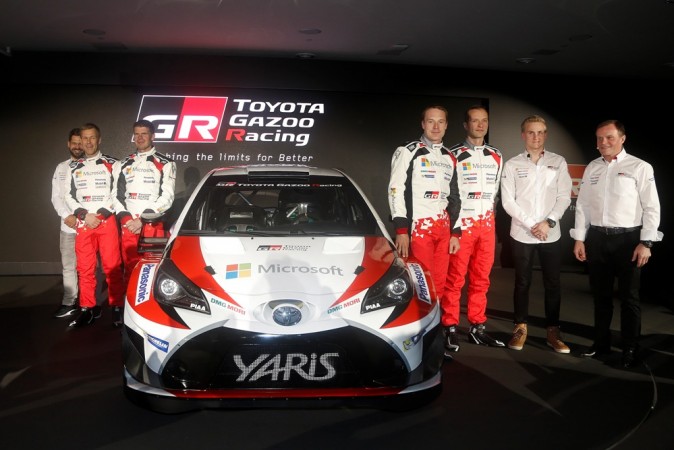 Toyota Gazoo Racing (TGR) showcased Yaris WRC car and presented its driver line-up for the 2017 FIA World Rally Championship (WRC) season at an event held at Helsinki. The Japanese car maker will mark its return to WRC after a 17-year absence at Monte-Carlo Rally starting on January 19.
The Yaris WRC has been developed by Tommi Makinen, team principal of TGR who is also four-times WRC world champion, complying with the requirements of the FIA technical regulations for the 2017 season. The car is powered by a 1.6-litre direct injection engine that develops 380 horsepower under the bonnet. The design of the vehicle has been optimised to allow maximum airflow by a team that consists Tom Fowler, Simon Carrier and Mikko Ruoho.
TGR also roped Jari-Matti Latvala who was left to find a new team after his 2016 team Volkswagen Motorsport decided to end its WRC programme at the end of the season. Latvala and Juho Hanninen will be the lead drivers for the TGR, while Esapekka Lappi, Finnish young driver who won the WRC 2 Championship this year, will also join the team through the season as a test driver. This will also make the TGR team an all-Finnish outfit of the next season.
"I started my rally career in a Toyota Corolla GT back in 2001 and my first competitive outing in a World Rally Car was behind the wheel of a Corolla WRC in 2003 in Estonia. So in many ways, it feels like I'm coming home! I'm really happy to join the Toyota Gazoo Racing WRC team from the very start and lead this new adventure with them. I feel lucky to be part of this story and I hope we will amass a lot of victories in it," said Latvala. Since contesting his first WRC rally in 2002, Jari-Matti Latvala has continued to impress and ended the 2016 season with 16 WRC wins to his name.