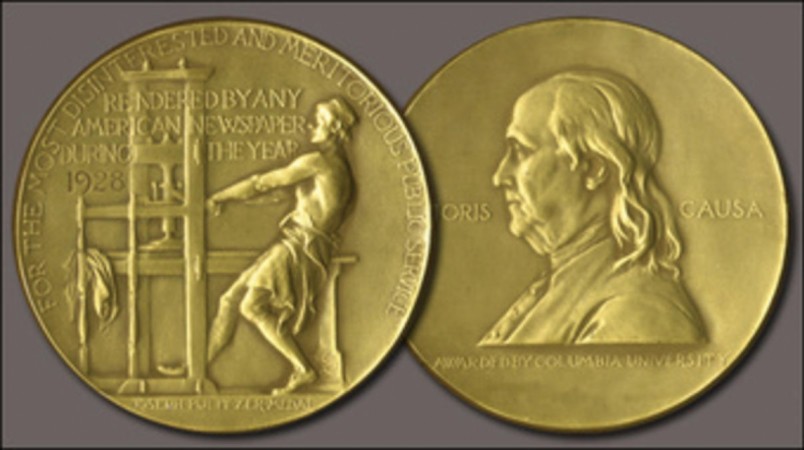 The 101st Pulitzer Prize winners were announced on Monday. The Pulitzer board picked the winner in each category by narrowing down the finalists nominated by a panel of experts.
Pulitzer administrator Mike Pride revealed the names of the winners for 14 journalism categories, along with the finalists from seven other arts and literature sections. The Pulitzer Prizes are give to the best entries from different journalism categories including Public Service; Investigative, Breaking News, Explanatory, and Local, National and International Reporting; Breaking News and Feature Photography; Feature Writing; Commentary, Criticism, Editorial Writing and Cartooning.
There were a total of 1,187 journalism entries this year for the United States' oldest annual awards, a noted increase from last year's submissions.
Here's the complete list of the winners:
Journalism:
Public service: New York Daily News and ProPublica, for Sarah Ryley's series on NYPD-led evictions
Breaking news: Staff of the East Bay Times, for their coverage of the Ghost Ship fire
Investigative reporting: Eric Eyre of the Charleston Gazette-Mail, for his coverage of the West Virginia opioid epidemic
Explanatory reporting: International Consortium of Investigative Journalists, McClatchy and Miami Herald, for the Panama Papers
Local reporting: Staff of the Salt Lake Tribune, for their coverage of sexual assault at Brigham Young University
National reporting: David A Fahrenthold of the Washington Post for his coverage of the question of Donald Trump's philanthropy
International reporting: Staff of the New York Times for reporting on Vladimir Putin's efforts to project Russia's power abroad
Feature writing: CJ Chivers of the New York Times for his feature on a Marine's life after the war
Commentary: Peggy Noonan of the Wall Street Journal for her coverage of the election season
Criticism: Hilton Als of the New Yorker for his theater reviews
Editorial writing: Art Cullen of the Storm Lake Times for his coverage of Iowa's corporate agricultural interests
Editorial cartooning: Jim Morin of the Miami Herald for his political cartoons
Breaking news photography: Daniel Berehulak, freelancer, for his photography of government assault on drug dealers and users in the Philippines
Feature photography: E Jason Wambsgans of the Chicago Tribune for his photo essay on a child who survived a shooting in Chicago
Arts and letters:
Fiction: The Underground Railroad by Colson Whitehead
Drama: Sweat by Lynn Nottage
History: Blood in the Water: The Attica Prison Uprising of 1971 by Heather Ann Thompson
Biography: The Return: Fathers, Sons and the Land in Between by Hisham Matar
Poetry: Olio by Tyehimba Jess
General nonfiction: Evicted: Poverty and Profit in the American City by Matthew Desmond