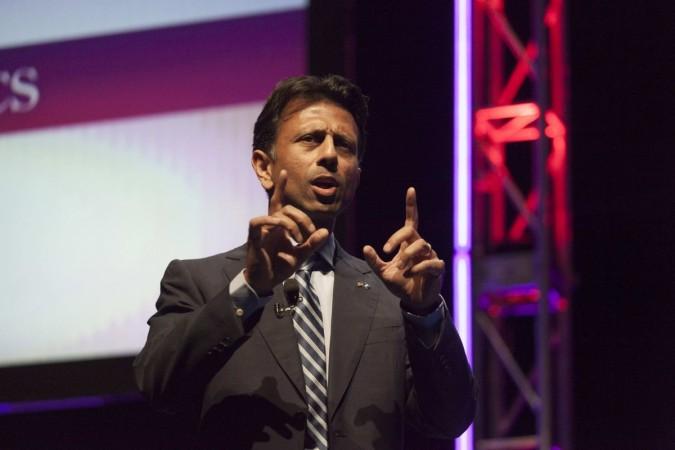 Louisiana Governor Bobby Jindal – who is also a 2016 presidential hopeful – has brought upon himself a torrent of controversies this week.
Even before anger for his comment on Monday that there are European cities that have "no go zones" for non-Muslims could die down, he invited a surge of resentful voices on Wednesday by stating that Muslim migrants were trying to "colonise" Europe.
The Republican politician has grabbed significant media attention ever since he made his first statement on Monday.
Standing by his controversial statement on "no go zones", the Indian-origin politician ratcheted up what critics have called "anti-Muslim" and racist comments by saying that if Muslims were left unchecked, they will ultimately "overtake the culture" of Europe and the United States could be next.
During his appearance Wednesday on Fox News, reiterated his earlier comments, insisting that Muslims don't tend to consider themselves part of the country they have migrated to.
"They may be second, third, fourth generation, they don't consider themselves part of that country. They're actually going in there to colonise, to overtake the culture," Jindal told the network as noted by CNN.
"If people don't want to come here to integrate and assimilate, what they're really trying to do is...overturn our culture," he added.
The latest comment comes even as angry critics have been hurling racist slurs at the politician for his previous one. MSNBC, for instance, was forced to cut ties with one of its regular guests after he threw a racially-charged slur at the 43-year-old American politician.
Responding to Jindal's comment about "no-go zones" in Europe, Arsalan Iftikhar, a human rights attorney, told MNSBC anchor Alex Wagner: "I think Gov. Jindal is protesting a bit too much...he might be trying to, you know, scrub some of the brown off of his skin as he runs to the right in a Republican presidential exploratory bid..."
Later, an MSNBC spokesman announced that the network had "found this guest's comments offensive and unacceptable and we don't plan on inviting him back," the Inquisitr notes.
Responding to the alleged racist slur, the two-term governor told the Washington Examiner that "It's embarrassing for MSNBC to give voice to such shallow foolishness."
Jindal is mired in deep trouble, thanks to his comments, the first of which he made in support of earlier report by Fox news that there was "no go zones" for non-Muslims in the British city of Birmingham and other cities like Paris.
"There are absolutely neighbourhoods where the police are less likely to go in," said Jindal, in support of an earlier controversial remark made by another commentator on the same channel, who claimed there were neighbourhoods in the UK where Muslim immigrants were imposing Sharia law.
When asked whether he would still term the area as "no go zones," Jindal said on Wednesday, "You can call it whatever term you want, but there are neighbourhoods, we have communities of people who don't want to integrate, don't want to assimilate."
.