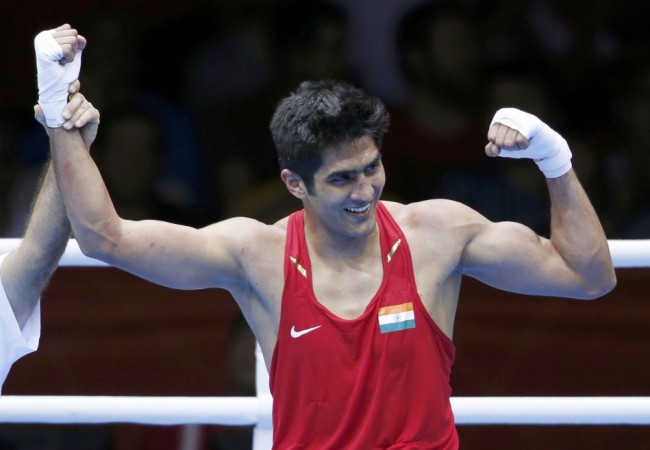 Vijender Singh might be eager to represent India in the 2016 Olympics, but with the process of allowing profesionals to compete in the boxing even in Rio still far from complete, the boxers chance of doning the national colours look pretty small.
Earlier, there were no provisions for professional boxers to compete in the Olympics, but the AIBA (International Boxing Association) recently made a proposal to allow pros to compete, arguing that the quality of boxing will go a notch higher as a result.
But, there is very little time for everything to fall into place as the decision -- to allow professionals in or not -- will be taken just two months prior to the Olympics.
Those pro boxers, who want to participate in the Olympics, will have to wait till June 1, when the AIBA Extraordinary Congress takes place.
"If given a chance, I would definitely try to qualify for the Olympics. Who would want to miss an opportunity if it is there," Vijneder told PTI.
However, it is going to be a tricky affair for Vijender, who already has some major pro fights scheduled. Vijender is expected to fight for his first WBO Asia belt in India in June, the same month of the Olympics qualifying competition in Azerbaijan.
Apart from this, Vijender's qualification is also not guaranteed. There are other boxers like Vikas Krishnan, who could book the middleweight slot via the Asian Olympic qualifiers, which takes place this month. If such a scenario arises, the boxer might have to fight it out in some other weight category, which makes the situation even more complicated.
"I don't have any clarity on this as of now. But let's see how things go. My stand is if there is an opportunity, I would try, but if there is none, there is nothing that I can do," Vijender said.
As of now, there is no clarity regarding the situation, and the boxing federations, who will choose their respective boxers to represent the nation in the qualifiers, have to wait for the decision (pro boxers allowed in Olympics) to come from the AIBA.
Though we may be talking about India boxers in the Olympics, the other hard-hitting fact is that the Indian boxers, even if they qualify, might not be able to represent the nation in the Olympics if the country does not have a federation by the end of the month.
This could be a knockout punch to India boxers.