There has always been an urge to know the future throughout the history of mankind. It is this curiosity that possibly paved the way for research on astrology and many other such studies to foresee what lies ahead of us.
Send Funny New Year Wishes to your Friends | Top 20 Quotes | Interesting Facts
Even though science has challenged such studies, people have kept faith in predictions by fortune-tellers even in the 21st century. While for some such predictions work as blueprint in realising people's dreams, for many it helps understand what needs to be done to fulfil their wishes.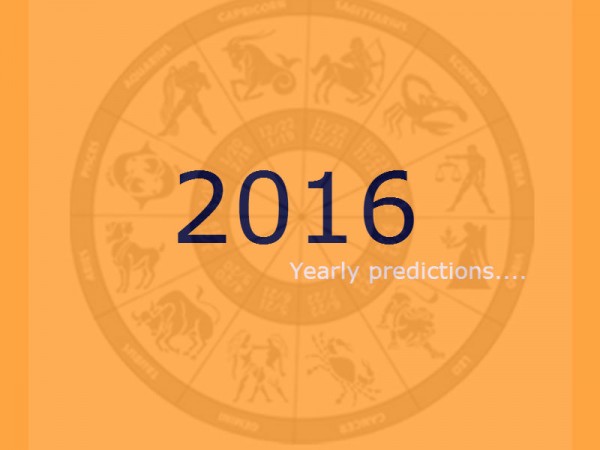 How will the year be for me? Will there be progress in my career? Is this the right time to find a suitable partner? Will the dream of buying a home be fulfilled this year? Is there any trouble in my life? These are the common questions that haunt people, and they try to find answers through astrology or other such predictions.
As we prepare to welcome New Year 2016, it is the time for people who believe in such predictions to understand what is in the store for them. We bring you the links of predictions by experts based on the Vedas, Chinese Zodiac and other beliefs.
Vedic Astrology
The traditional Hindu system of astrology is called as Jyotisha or Vedic astrology. Here are a few links that give predicions based on the system.
Click Here to read Predictions made on Shrivinayaka
Click Here to read Predictions made on Find Your Fate
Click Here to read Predictions made on Astro Sage
Western Sun Sign astrology
This is one of the popular systems used to foresee the future in Western countries. We bring you a few links that predict future based on this system:
Click Here to read Predictions made on Sun Signs
Click Here to read Predictions made on Latin Times
Click Here to read Predictions made on Express UK
Click Here to read Predictions made on Zee News
Chinese Zodiac Predictions
The Chinese, too, have a traditional astronomy based on calendars. Here are a few links that predict the future based on this system:
Click Here to read Predictions made on Chinese Fortune Calendar
Click Here to read Predictions made on Travel China Guide
Click Here to read Predictions made on MyKundali