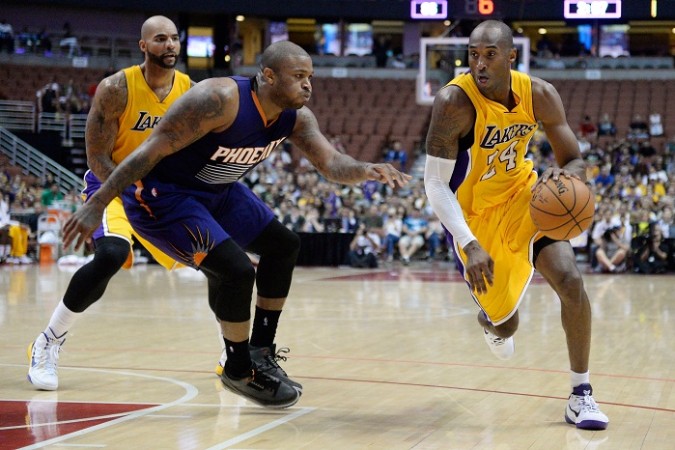 As expected, some of the biggest and most popular NBA players like Kobe Bryant, Stephen Curry, LeBron James and Dwyane Wade will feature in the prestigious NBA All-Star game. The game between the Eastern and Western Conference, which is one of the most anticipated contests in the season, is set to be played at the Air Canada Centre in Toronto on 14 February.
All the NBA starters for the All-Star Game were chosen by the fans. Three stars – Bryant, Curry and James – received in excess of 1 million votes, with the Lakers man receiving the highest number of votes -- 1,891,614.
Such figures for Bryant, who will be playing in his 18th All-Star game, should not come as a huge surprise with the two-time Olympic gold medallist retiring at the end of the season. Bryant's performance, while decent in patches, has not been outstanding.
Other names such as Curry, James, Wade, and Carmelo Anthony were expected to be voted by the fans. They are some of the best players plying their trade in the NBA. Curry, who has been in incredible form for the Golden State Warriors, received 1,604,325 votes while James received 1,089,206 votes.
Oklahoma City Thunder is the only team which will feature two players in the starting lineup, with guard Russell Westbrook and forward Kevin Durant set to dazzle fans in Toronto. The home fans will be rooting for their star player, Kyle Lowry, who will be playing in only his second All-Star game.
However, there was some big names who missed out on the starting role. Houston Rockets' James Harden, Chicago Bulls' Pau Gasol and Warriors' Draymond Green, who have all played some quality basketball in the league this season, are unforunate to have missed out.
Gasol was the most unlucky, as he missed out on the starting role to Anthony, who had 567,348 votes compared to Gasol's 566,988. The difference just stands at 360 votes.
If the West have Bryant and Curry as starters, East have James and Anthony. What more do you want? With such NBA stars in the fray, one cannot wait for the NBA All-Star game, where quality is expected with players entertaining the fans with their fancy tricks as well.
Full list of starters for Western and Eastern Conference
Western Conference
Kobe Bryant - L.A. Lakers
Stephen Curry - Golden State Warriors
Kevin Durant - Oklahoma City Thunder
Kawhi Leonard - San Antonio Spurs
Russell Westbrook - Oklahoma City Thunder
Eastern Conference
Carmelo Anthony - New York Knicks
Paul George - Indiana Pacers
LeBron James - Cleveland Cavaliers
Kyle Lowry - Toronto Raptors
Dwyane Wade – Miami Heat