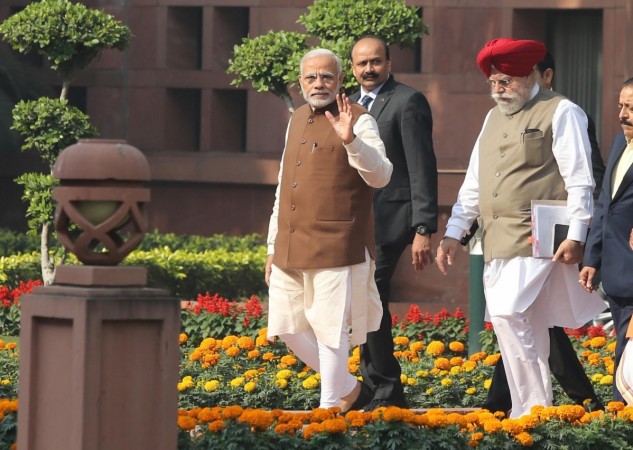 The calendar year 2016 draws to a close in less than 48 hours from now, marking the end of an eventful period, especially the last few months. For India — the world's fastest-growing economy — the biggest event was Prime Minister Narendra Modi's demonetisation decision of November 8, 2016 and the consequences that are far from over.
The year also saw the demise of former actress and chief minister of Tamil Nadu, J Jayalalithaa (AIADMK) on December 5, after 75 days of ailment.
Of course, the year began on a sad note when terrorists, believed to be from Pakistan, attacked the Indian Air Force base in Pathankot. The year was destined to see more such attacks, including the one on an Indian Army base in Uri (Jammu & Kashmir).
India's surgical strike on terror launchpads along the Line of Control with Pakistan stood out as India's paradigm shift in taking on Pakistan-sponsored terrorism.
The middle of the year saw a significant event, the exit of Britain (Brexit) from the European Union. Another exit, this time in India, was that of Raghuram Rajan, as governor of the Reserve Bank of India. He was replaced by Urjit Patel, whose appointment was shortly followed by the decision to ban high-denomination currency notes, giving the RBI a tough time to manage the currency crunch across the country.
India's biggest sporting obsession, cricket, was in the news for many wrong reasons, the most important being the tussle between the governing body BCCI and the Lodha panel, appointed by the Supreme Court to make the body more accountable.
In November, oil producing countries arrived at a major decision to cut crude oil output to stabilise prices from falling further. The decision was historic as both OPEC and non-OPEC oil producers agreed to cap output.
For those who may want to rejig their memory, the first six months were marked by electoral surprises when five states went to the polls. Tamil Nadu delivered a surprise, giving Amma's AIADMK a second successive mandate, BJP-led coalition won Assam, Mamata Banerjee retained power in West Bengal and Communists returned to power in Kerala.
For month-wise highlights, please read the graphical summary below: