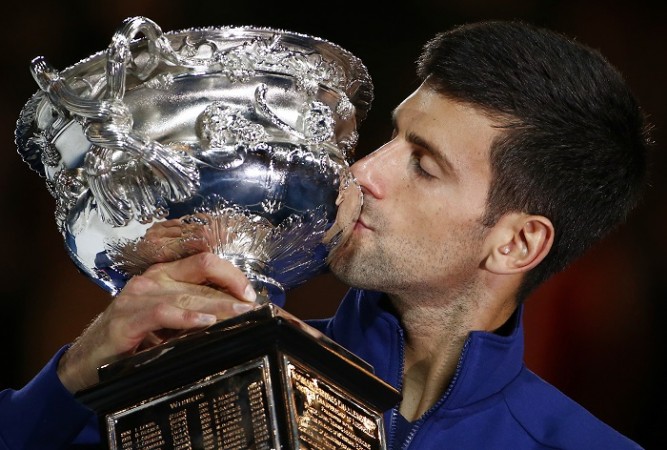 Novak Djokovic clinched his sixth Australian Open title, defeating Andy Murray in straight sets at the Rod Laver Arena on Sunday. The score read 6-1, 7-5 and 7-6. This also happens to be Murray's fifth loss in Australian Open finals.
Djokovic, who had started the match as the overwhelming favourite, began brilliantly, running off to an early 5-0 lead, and there was no question of stopping the in-form, rampaging world number one. The Serbian was in a league of his own, as he took the first set 6-1 with a dominating display.
Djokovic hit 10 winners in the first set, compared to Murray's five. The winners were not the only difference between the two -- their service games also mattered. Murray was easily broken by the top seed.
However, the second set was a rather close one, with the second seed determined to make a match out of it. He improved upon his service game and gradually began to threaten Djokovic for the first time during the final, playing some strong tennis with quality groundstrokes. Still, the competitive nature of Murray in the second set was not able to stop Djokovic from clinching the set 7-5.
With just a set away from the title, Djokovic, who is good at killing matches off, was made to work a bit harder as the Scot, one last time, came all guns blazing and produced an encouraging display in the third set. Some high-intensity tennis was played in the third set, where both the players were involved in long rallies.
However, Murray, who had played some good tennis to take the third set to a tie-break, crumbled in the end to hand the match and championship to Djokovic.
Djokovic, who won three Grand Slams last year, has started 2016 brilliantly as well, winning the year's first major. If Djokovic continues to play on a similar level, it is going to be really difficult to beat the Serbian in a major this year, which makes one believe a calendar Grand Slam could be possibile in 2016.
Click here to watch Australian Open men's final highlights - Novak Djokovic vs Andy Murray