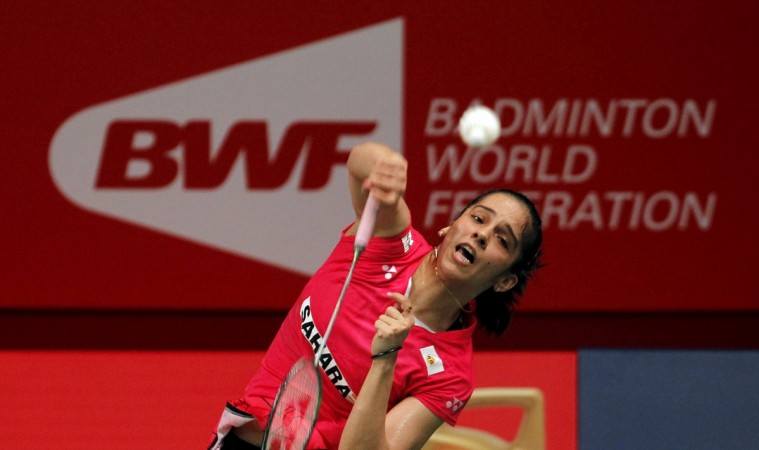 Saina Nehwal put up another impressive performance in the ongoing 2015 World Badminton Championship as she reached the semi-finals of the competition, defeating Wang Yihan from China in Jakarta, Indonesia on Friday. The score read 21-15, 19-21 and 21-19.
Saina Nehwal, who does not show her emotions primarily, threw the racquet up in the air as she secured the last point of the game in her favour. The match produced some magical moments from both the players and Wang Yihan was unlucky to have finished second best, especially after coming back in the second set, winning eight points in a row to take the game to a deciding set.
After taking the first set quite easily, Saina was outperformed in the second set, but the third set produced some quality badminton. Either of the players could have won the third set, but the second seed played an aggressive game to win the set along with the match.
Neither of the players were giving an inch to one another as they played some of the best rallies of the competition in the third set. Both were desperate to progress into the next round of the world championship.
Saina Nehwal, who is undoubtedly one of the best players in the circuit, produced her best performance in the championship so far against Wang. Be it line judgment, net play, smashes, Saina Nehwal looked comfortable, though Wang was also on the same level. Saina's mental toughness was also on full display as she was peturbed when trailed in the final set as well.
The victory must have been much more sweeter for the Indian considering Saina Nehwal having failed to progress beyond the quarter-final stage in her previous attempts at the world championship. Apart from her unsuccessful attempt in previous years, Saina Nehwal had a very poor head-to-head record against Wang Yihan as the Chinese had defeated her nine times out of the 11 times they met.
In the semi-final, Saina Nehwal will meet Indonesian Lindaweni Fanetri, who has been mighty impressive after having seen three quality players bite the dust against her, though Fanetri was awarded the pre-quarters game after her opponent Ratchanak Itanon could not continue with her game due to an injury.
With Wang Yihan's exit, the last four does not have a single Chinese shuttler. The other two semi-finalists are Spain's Carolina Marin and South Korea's Sung Ji Hyun.