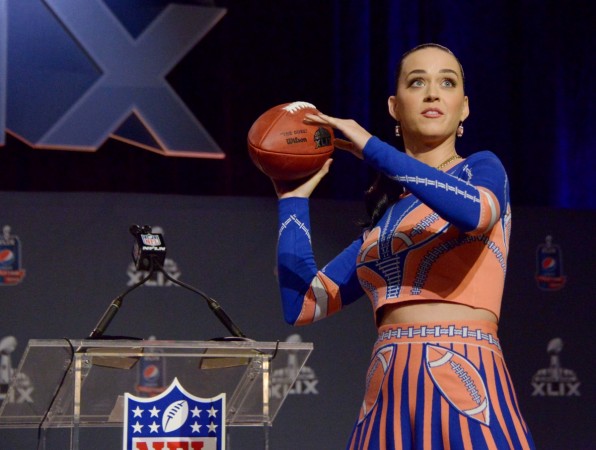 The Super Bowl halftime show, which is said to be the most watched 12 minutes in television, will feature Katy Perry this time around, and fans can expect a wild performance.
Those who don't have cable can watch the game and the halftime show on NBC website, which will live stream the pre and post-game coverage. The live stream will start at 12 p.m. ET on 1 February and will continue through 10 p.m. ET.
During a recent press conference to promote her act, the "Roar" singer revealed that she's bringing a few animals along for her performance, which is expected to be a unique one. "I'm the only person in Super Bowl history to bring a lion and sharks to the show," she said, according to Yahoo Music. "It's going to be wild out here."
She also addressed rumours about dissing Taylor Swift, saying: "I don't know where you heard that. I think the speculation is very fun. And I don't usually like speculation, but I'm like 'Hey!' It's like bringing everybody into the conversation, you know, and on February 1, you'll see what's actually gonna go down."
Elaborating on her performance, the 30-year-old singer said that her performance will be different from her Prism tour. Perry's 12-minute performance will see her sharing the stage with Lenny Kravitz, and Missy Elliot.
"This is true. I have to keep some surprises for Sunday and I'm very, very excited about this guest because I thought long and hard about it and wanted to kinda bring someone back, like a throwback of sorts, that definitely needed some more shine," Perry told reporters about her guests. "All I can say is it will be a real female-fun night."
Super Bowl XLIX will pitch Seattle Seahawks against the New England Patriots and the game will be held on 1 February at the University of Phoenix Stadium, Glendale, Arizona.
Performers at the halftime show have usually seen a boost in the sales of their albums post the performance.
For instance, last year's performer Bruno Mars experienced a boost for his "Unorthodox Jukebox" after his 2014 Super Bowl set. Billboard reported that as per Nielsen Music, the album jumped from 15,000 copies a week before Super Bowl to 42,000 during the week of the Game. It then went up to 81,000 for the first full post-Bowl week.