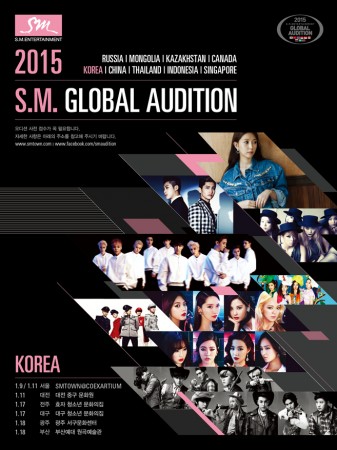 The largest South Korean record label SM Entertainment will be hunting for new talent in modelling, acting, singing, dancing and song writing through its "2015 SM Global Audition" from 9 January.
The audition will span 28 cities in nine countries, including Thailand, Mongolia, Indonesia, China, Russia, Korea, Canada, Singapore as well as Kazakhstan.
This is the first time in the history of Korean entertainment industry that an agency will be holding an audition in Mongolia and Russia, according to kpopstarz.
SM Entertainment, which has braced many talent in the past including f(x)'s Amber, Super Junior-M's Henry as well as Red Velvet's Joy and Wendy, will hold their global audition for five months and it is reportedly open to people from all age group, gender and nationalities.
Interested candidates can register their names through "every sing" application or send an application via e-mail or the official website of SM Entertainment and be part of popular K-pop groups, like EXO, Super Junior, f(x), Girls' Generation (SNSD), Go Ara, SHINee, TVXQ, Red Velvet, BoA and Lee Yeon Hee.
In Korea, the "2015 SM Global Audition" will be held at Seoul, Daejeon, Jeaonju, Daegu, Gwangju and Busan. The search for talent in Indonesia will take place at Jakarta and Surabaya. In Thailand, Bangkok and Chiang Mai will be the venue for the audition.
In China, the talent hunt will take place at Shenyang, Chongqing, Beijing, Shanghai, Guangzhou, Wuhan, Nanjing, Chengdu, Xi'an, Hefei and Zhengzhou.