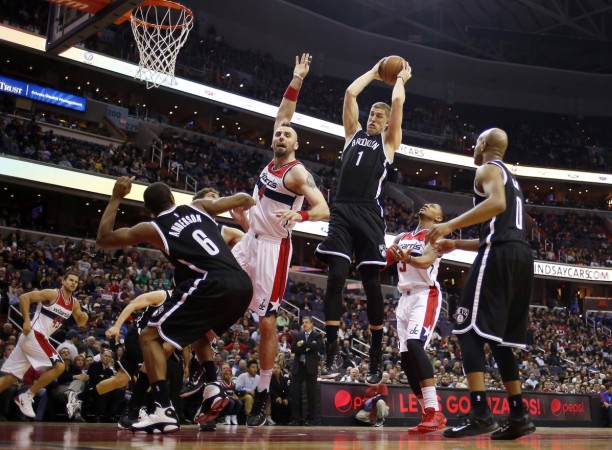 One of the most awaited annual events in the basketball calendar, NBA All Star Weekend is just two weeks away and patrons are already preparing for the mega event, which is a huge spectacle in the USA.
Amongst all the events, it is the Sprite Slam Dunk competition, which is keenly awaited as it is battled amongst four dunkers from the NBA.
The participants have been announced and it includes an impressive list of players from the NBA such as Magic's guard Victor Oladipo, Timberwolves' guard Zach LaVine, Nets forward Mason Plumlee and Bucks' forward Giannis Antetokounmpo.
The Slam dunk contest will see a new champion, as none of the above mentioned hoopsters have participated in the competition.
They might have seen players like Michael Jordan, Vince Carter doing some amazing stuff on the court with creative dunks. But, it is time for these players to showcase their skills and show what they have got.
It would not be wrong to count LaVine as one of the favourites in the competition, for he is one of the most athletic players in the NBA. Having shown some great dunks in the regular season, one cannot wait as to what the player may have up his sleeve in the slam dunk contest.
But, one cannot count out other players as well, for the dunk contest has brought in a number of surprises as well in the past.
Who knows if Plumlee can deliver the goods as well, who has the most number of dunks during the season, 79. But, it is 6ft 11in height, which gives him an added advantage. If the player wins the contest, he will only be the fourth player ever to win on his home court.
Antetokounmpo, nicknamed the "Greek Freak," has also showed some glimpses of his dunking skills, going high over opponents and leaving them astounded.
Normally, it is high flying and original dunks, which make people sit up and take notice.
The contest is for the fans to enjoy with dunkers being the entertainers. LaVine wants to give the fans a great show. It was his dream to compete in the contest, so winning the contest would be an icing on the cake.
"To be selected for this year's Sprite Slam Dunk Contest at All-Star Weekend is very exciting," NBA. com quoted LaVine as saying
"It's been one of my dreams to compete in the All-Star slam dunk contest ever since I was a little kid. My plan is to give the judges and all NBA fans a great show."
The dunk contest has been scheduled for 14 February at Barclays Center.