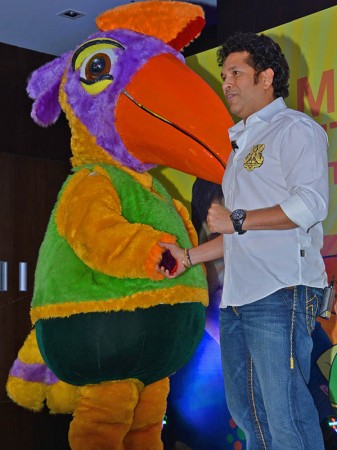 The 35th National Games of India will be taking place in Kerala from 31 January to 14 February.
Ammu, the Great Indian Hornbill, will be the official mascot of the 2015 National Games, while Indian Cricket Legend Sachin Tendulkar has been appointed as the Goodwill Ambassador.
In the last edition of the National games held in Jharkand in 2011, Services (Services Sports Control Board), the Indian Army team, emerged victorious with a tally of 70 gold, 50 silver and 42 bronze medals.
Manipur, who won the best state award, came second with a total of 118 medals (48 gold, 37 silver and 33 bronze), followed by Haryana and Maharashtra with 115 (42 gold, 33 silver and 40 bronze) and 132 medals (41 gold, 44 silver and 47 bronze) respectively.
Maharashtra's Virdhawal Khade and Delhi's Richa Mishra (both swimmers) claimed the best male and female athlete respectively in the 2011 National Games of India
While Khade bagged 12 medals (including 8 gold), Mishra collected 16 medals (including 11 gold).
An estimated 11,641 participants, including 7,744 athletes will be competing in 33 disciplines across seven districts in Kerala in the 35th National Games of India.
There are a total of 1369 medals (4141 gold, 414 silver and 541 bronze) on offer, with aquatics, athletics and shooting being the biggest events in 2015 National Games of India.
Here is the complete schedule of the 35th National Games of India:
| | | |
| --- | --- | --- |
| Date | Event | Venue |
| 31 January | Opening Ceremony | Greenfield Stadium, Karyavattom, Thiruvananthapuram |
| 1 to 4 February | Squash | Chandrashekharan Nair Stadium, Palayam |
| 1 to 4 February | Wrestling | Indoor Stadium, Mundyad, Kannur |
| 1 to 5 February | Beach Handball | Shangumugham Beach, Thiruvananthapuram |
| 1 to 5 February | Beach Volleyball | Kozhikode Beach |
| 1 to 5 February | Kho Kho | Sreepadam Stadium, Attingal, Thiruvananthapuram |
| 1 to 5 February | Netball | Indoor Stadium, Vellayani, Thiruvananthapuram |
| 1 to 5 February | Table Tennis | Rajiv Gandhi Indoor Stadium, Kadavanthra, Kochi |
| 1 to 5 February | Weightlifting | VKN Menon Indoor Stadium, Thrissur |
| 1 to 5 February | Yachting | Cherai Beach, Kochi |
| 1 to 6 February | Gymnastics | Jimmy George Indoor Stadium, Thiruvananthapuram |
| 1 to 7 February | Aquatics | Aquatics Complex, Pirappancode, Thiruvananthapuram |
| 1 to 8 February | Shooting-Trap&Skeet | Police Academy Shooting Range, Thrissur |
| 1 to 8 February | Tennis | Tennis Complex, Kumarapuram, Thiruvananthapuram |
| 1 to 9 February | Archery | Jawaharlal Nehru Stadium, Kaloor, Kochi |
| 1 to 9 February | Football (Men) | Corporation Stadium & Medical College Stadium, Kozhikode |
| 1 to 9 February | Lawn Bowls | CIAL Golf Course, Nedumbaserry, Kochi |
| 1 to 10 February | Football (Women) | Corporation Stadium, Chembukkav, Thrissur |
| 1 to 11 February | Hockey | New Hockey Stadium, Asramam, Kollam |
| 2 to 5 February | Rowing | Vemabanad Lake, Alappuzha |
| 5 to 13 February | Cycling | LNCPE Velodrome, Karyavattom, Thiruvananthapuram |
| 6 to 13 February | Boxing | Indoor Stadium, Thriprayar, Thrissur |
| 7 to 13 February | Wushu | LNCPE Stadium, Karyavattom, Thiruvananthapuram |
| 8 to 13 February | Handball | Jimmy George Indoor Stadium, Thiruvananthapuram |
| 9 to 13 February | Athletics | University Stadium, Palayam, Thiruvananthapuram |
| 9 to 13 February | Badminton | Rajiv Gandhi Indoor Stadium, Kadavanthra, Kochi |
| 9 to 13 February | Basketball | Indoor Stadium, Mundyad, Kannur |
| 9 to 13 February | Canoeing & Kayaking | Vemabanad Lake, Alappuzha |
| 9 to 13 February | Fencing | CIAL Convention Center, Nedumbaserry, Kochi |
| 9 to 13 February | Kabbadi | Sreepadam Stadium, Attingal, Thiruvananthapuram |
| 9 to 13 February | Volleyball | VKK Menon Indoor Stadium, Tazhekkod, Kozhikode |
| 10 to 13 February | Judo | VKN Menon Indoor Stadium, Thrissur |
| 10 to 13 February | Taekwondo | Indoor Stadium, Vellayani, Thiruvananthapuram |
| 11 to 13 February | Rugby Seven's | Lal Bahadur Shastri Stadium, Kollam |
| 14 February | Closing Ceremony | Greenfield Stadium, Karyavattom, Thiruvananthapuram |