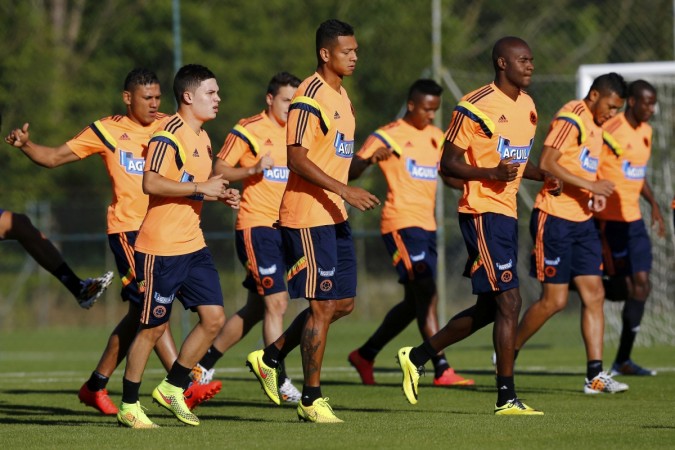 As Colombia edge closer to their 2014 World Cup quarterfinal clash against Brazil, many Los Cafeteros fans will remember their former captain Andres Escobar, who was killed exactly 20 years ago.
Escobar, 27, who was on the verge of sealing a move to AC Milan, was murdered in cold blood after he scored an own goal which eventually led to Colombia's premature elimination in the 1994 World Cup in USA.
The South American side, which had registered a crushing 5-0 victory over Argentina during the qualifying phases of the 1994 World Cup, was one of the favourites to win the competition that year, with even Brazil legend Pele claiming that Colombia were the best team in the competition.
However, Colombia's 1-0 defeat against hosts USA (following an earlier 1-3 loss to Romania) led to their premature exit from the World Cup.
It is understood that many drug lords and gangsters lost a lot of money on bets when Colombia failed to triumph against USA. And most of them blamed Escobar's 35th minute own goal for the defeat.
As tempers were running high in the South American country, following their exit from the World Cup, Colombian players were asked to stay away from the public eye.
However, Escobar decided to visit a bar in his hometown with some friends. And when he was alone in the parking lot, three men appeared and started pestering him about the own goal. An argument broke out and finally Escobar was shot six times in the chest. He was rushed to the hospital but he eventually succumbed to injuries.
Humberto Castro Munoz, a bodyguard for the members of a powerful Colombian drug cartel, was later found guilty of murdering Escobar. Though he was initially sentenced to 43 years in jail, he was released 11 years later for good behaviour.
The incident left the Colombian footballing community devastated and most players refused to play for the national team following Escobar's murder.
"Many people who lived for soccer left the sport after what happened to Andrés. We exchanged winning for our safety. Now we're cleaning up our streets and starting to build again," said former Colombia defender Francisco Maturana.
Colombia, after again doing very badly in the 1998 World Cup in France, failed to qualify for the next three competitions in 2002 (South Korea and Japan), 2006 (Germany) and 2010 (South Africa).
Now after 20 long years, the Colombians finally have something to celebrate, after witnessing their team reach the quarterfinals of the 2014 World Cup.
Despite the absence of their star striker Radamel Falcao (who was ruled out of the World Cup due to an injury), Colombia have managed to do well, thanks to the performance of James Rodríguez, who is leading the race for the Golden Boot, with already five goals and two assists to his name.
However, the fans have not forgotten the tragedy of 1994 as they are still seen carrying Escobar's photos during Colombia's matches at the 2014 World Cup.